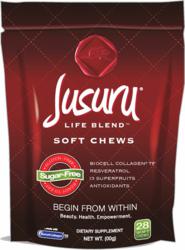 Jusuru Life Blend consumers now have the convenience and portability needed to support their busy lifestyles.
Anaheim, CA (PRWEB) February 19, 2013
Jusuru International launched an extension of its signature product, Jusuru Life Blend, which has been recognized for its award-winning BioCell Collagen®, a multi-patented joint and skin health nutraceutical. The new Sugar-Free Soft Chews fulfill a demand for a sugar-free, portable alternative while offering the same benefits of its signature Jusuru Life Blend liquid.
BioCell Collagen has won numerous industry awards, holds 5 US patents and is backed by clinical trials. Its patented manufacturing process produces the optimal molecular weight of complete Collagen Type II, Hyaluronic Acid and Chondroitin Sulfate molecules that the body can actually absorb and is known as a powerhouse ingredient that helps support both joint and skin health.
Clinical tests show that BioCell Collagen improves joint mobility, reduces stiffness and discomfort, helps rebuild the building blocks of cartilage and connective tissue and promotes joint lubrication. BioCell Collagen also counteracts skin's natural aging and photoaging from the inside out. Clinical trials demonstrate that BioCell Collagen increases collagen content in the skin, reduces wrinkles and fine lines and improves microcirculation, hydration and skin tone.
In addition to numerous clinical studies proving the impact of their technology, Frost & Sullivan awarded BioCell Collagen with a "Best Joint Health Ingredient Award". BioCell Collagen was also a finalist for the Nutraceutical Business & Technology Award, "Most Innovative Dietary Ingredient", while Jusuru was named the "Exemplary US Brand" at the Beauty From Within Conference in Paris, France.
Jusuru Life Blend Sugar-Free Soft Chews launched at a regional distributor training event in Palm Beach Gardens, Florida. Keynote speakers included Direct Sales Entrepreneur Todd Smith, and Jusuru's Scientific Advisory Board including Dr. Louis P. Brady, Orthopedic Surgeon, Dr. Jon M. Grazer, Board Certified Plastic Surgeon, Dr. Lisa DeRosimo, Nutrition and Weight Management Specialist and Dr. George A. Malnati, Doctor of Veterinary Medicine.
Asma Ishaq, Jusuru International's president comments, "Jusuru Life Blend consumers now have the convenience and portability needed to support their busy lifestyles. Jusuru Life Blend Sugar-Free Soft Chews is a product line extension that illustrates our innovative ability to evolve into the future. We are very pleased with the success of our new product launch."
Jusuru International, Inc., headquartered in Anaheim, California is committed to delivering the most advanced nutritional supplements made with the highest quality ingredients. Jusuru's executive team supports its network of independent representatives with decades of experience in health, science and business. For more information on Jusuru products or the company, please contact Jusuru International, Inc. at (888) 862-3968 or visit http://www.jusuru.com.
Jusuru is a member of the DSA, Direct Selling Association.