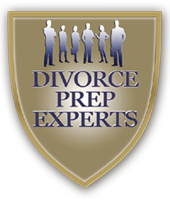 "Face your fears with experts and stay in control of your life"
New York, NY (PRWEB) February 20, 2013
Divorce Prep Experts (DPE) the New York based leader in helping to inform and empower people going through divorce through informational seminars and a suite of services announces that they are bringing their acclaimed "Get the Facts 3 Hour Seminar" to NYC on February 28th at 6pm, and will continue to offer monthly informational seminars throughout NYC, Connecticut, NJ and Long Island.
Fact: There is 1 divorce to every 2.4 marriages in the US. The fear of the unknown during divorce continues to affect millions who face divorce each year feeling lost, confused and alone due to the lack of resources. Divorce has been linked to emotional and financial destruction, drugs and alcohol abuse, domestic violence, child abuse, suicide and even murder of a spouse and child.
"Face your fears with experts and stay in control of your life before, during and after divorce …What you will learn in just 3 hours will make a lifelong difference"
This 3 Hour Q & A Seminar is available to men and women who are contemplating divorce or who have filed for divorce. During a Q & A forum, a team of top NYC licensed/certified experts in their respective fields will provide insight into the world of divorce and provide clarity and security to participants who seek to empower & protect themselves before, during and after divorce.
Experts include: Former Judge, Attorney, Financial Advisor, Divorce Mediator,
Child Psychologist, Family Therapist, Insurance Specialist & Life Coach.
Building upon the success of past "Get the Facts 3 Hour Seminars" held in Long Island and attended by hundreds of individuals, the first NYC Seminar is scheduled to take place on February 28th at 6:00 pm at Shetler Studios located at 244 West 54th Street, b/w Broadway & 8th Ave. To make sense of all of the expert advice, and to ensure that participants leave empowered to protect themselves through the knowledge gained, Divorce Prep Experts, President & CEO, Elizabeth Petrakis will moderate the NYC Seminar.
About the President & CEO
Elizabeth Petrakis, is a survivor of the arduous and confusing process of divorce. She created DPE in an effort to help one of the most overlooked groups in our population, those facing divorce. As President & Divorce Consultant, Liz brings a personal approach to DPE. Since 2007, she has gained a deep understanding of the overall effects surrounding divorce, when she personally experienced the incredible fear and frustration levied by a contentious 6-year matrimonial matter. Liz, a single mother of 3 school-aged children, represented herself (Pro-Se) to argue her own matrimonial case before Nassau County's Supreme Court Justice, Anthony Falanga. Her Pre-Nup Victory featured on the front cover of the New York Law Journal in December 2011, has won her recognition from experts in the field. Interviewed by Anderson Cooper (CNN) and reported on by the New York Post, Liz continues to share her divorce experience to assist others through Divorce Prep Experts' 3 Hour Seminars.
Asked about the rationale for bringing the Divorce Prep Experts Seminar to NYC, Elizabeth Petrakis stated, "Knowledge is Power - and I know first hand that people need to arm themselves with information and facts – to plan ahead and make the right decisions when it comes to divorce… by unveiling this monster called divorce, people can face it feeling empowered and protected through knowledge… this knowledge can be accessed directly from experienced experts at DPE".
Elizabeth also added that "Based upon the increasing statistics of divorce rates in our country, the unsettling lack of face-to-face "How To Divorce" resources, the tremendous feedback received from our past Seminars in Long Island, and my recent [appearance on Anderson Cooper Live, I am confident that DPE will continue to provide an invaluable resource that can empower, protect and benefit the divorcing masses".
"Although I wish that divorce would never happen again to anyone else, the reality is that it continues to traumatize the lives of more and more people - everyday. Therefore, it is my goal through Divorce Prep Experts to expand the number of seminars available to people in the Tri-State area, and then around the country, to allow more people to benefit from the invaluable knowledge about the entire divorce process that we provide during our seminars".
The statistics of divorce in New York State are rapidly increasing, even more so since the "No Fault" law that was passed in Oct. 2010. Men and women who are considering divorce are finding themselves in unfamiliar territory, overwhelmed and vulnerable due to a lack of knowledge and resources. Elizabeth states, "It is my goal through the expansion of locations to provide monthly seminars and bring our Divorce Prep Experts knowledge to the people who live and work in NYC, Connecticut, and NJ as our next steps".
Divorce Prep Experts is NOT a law firm.
Space is limited.
Details for the upcoming NYC Seminar:
When: Thursday, February 28 6pm-9pm
Where: Shetler Studios Penthouse 1, 244 West 54th Street, b/w Broadway & 8th Ave.
New York, NY 10019
Register Here: http://conta.cc/W6cUbr
Attendees are required to provide a registration fee of $40 per person
For more information on this topic or to schedule an interview please contact,
President & CEO, Elizabeth Petrakis 1800.377.0067 or liz(at)divorceprepexperts(dot)com