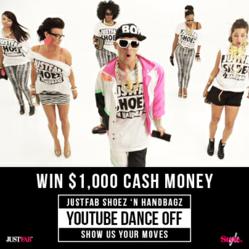 El Segundo, CA (PRWEB) February 20, 2013
JustFab, the innovative fashion styling service and contemporary fashion brand, today announced the release of the mock music video "JustFab Shoes 'n Handbags," featured on the popular Style Network series, "Kimora: House of Fab."
The video stars JustFab employees, led by the creative force behind the video, Sr. Graphic Designer Johnny Anastacio, as they rap and dance their way to the catchy beat. In hopes to create the next viral video sensation, the JustFab team held an internal contest for all of the employees to come up with the most outlandish video concept, which has been chronicled on the Style Network show.
The song and video for "JustFab Shoes 'n Handbags" was written, choreographed and performed by Johnny, a standout character on the show and web designer for the company. Featuring all of the latest styles of women's shoes and handbags that have become synonymous with the JustFab brand, the video is also filled with various humorous surprises that are sure to entertain JustFab fans as well as newcomers to the brand.
President and Creative Director of JustFab, Kimora Lee Simmons, also makes an appearance in this comical spoof.
To align with the premiere of the YouTube video, JustFab has launched a contest to encourage fans to create their own dance videos inspired by "JustFab Shoes 'n Handbags". The "JustFab Shoes 'n Handbags Youtube Dance Off" will offer 3 lucky winners a chance to win cash prizes and JustFab credits if they come up with fun and creative response videos complete with the dance featured in the original. The judging criteria: Fun, Fierce & Fabulosity!
To watch "JustFab Shoes 'n Handbags" and other videos created by the JustFab team, visit the JustFab YouTube channel at youtube.com/JustFab. You can also view through Facebook (facebook.com/JustFab) and Google+ ( +justfab) pages.
To watch the making of the video, tune in Wednesday nights to "Kimora: House of Fab" on the Style Network at 9pm/8pm central.
About JustFab
JustFab (http://www.JustFab.com) is an online fashion styling service and lifestyle fashion brand that offers members a fun and engaging personalized shopping experience lead by President and Creative Director, Kimora Lee Simmons. Members of the fashion membership service are given the celebrity treatment every month as they receive a customized selection of shoes and handbags, handpicked by personal stylists, along with the JustFab essentials including denim and sunglasses. Members have exclusive access to fashion tips and content, clickable style boards to shop complete outfits and the team of JustFab fashion consultants for expert advice. At $39.95 an item for VIP members, JustFab offers high-fashion looks off the runways at affordable prices and shipping is free for all items over $39.95.
About Style Media
Style Media, a global multimedia company that includes Style and stylenetwork.com, is the destination for women 18-49 seeking to fuel their insatiable appetite for looking great and living stylishly. Style currently counts nearly 77 million cable and satellite subscribers and is the fastest growing women's network in the U.S. Stylenetwork.com keeps women up-to-date on all of the latest fashion and beauty news on the web. Style's popular series include "Tia & Tamera," "Jerseylicious," "Giuliana & Bill," "Big Rich Texas," "Glam Fairy" and "Chicagolicious." Style is a network of NBCUniversal Entertainment & Digital Networks and Integrated Media, a division of NBCUniversal, one of the world's leading media and entertainment companies in the development, production, and marketing of entertainment, news, and information to a global audience.