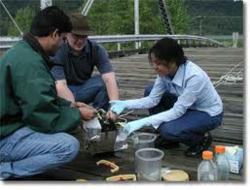 The quality of our future in many ways depends on the quality of our natural environment.
Boca Raton, FL (PRWEB) February 19, 2013
With more Americans paying close attention to our stewardship of the environment, it is not surprising that more people are entering careers geared towards protecting our natural world. In an upcoming report airing this spring from In View with Larry King, audiences will be introduced to programs that are helping students prepare for a future both protecting and rehabilitating our environment.
The In View TV series is hosted by Larry King, long time host of his own interview program simulcast on television and radio. Over the course of his career, Mr. King has conducted more than 50,000 interviews with some of the most important people of our time.
In this new report, In View Larry King (855-446-8439) will be talking to leaders in higher education about why so many students are choosing careers in environmental engineering and research. Audiences will also see how research programs in some of America's top universities are making strides in environmental cleanup technology like bioremediation.
In View Larry King (561-544-7965) airs on cable networks like The Discovery Channel across the country. The program explores many of the important issues in education, technology, the environment, and business that are getting the attention of leaders in the 21st century.
The new report on environmental education is set for a spring debut, check local television listing for more information or visit the website inviewseries.com.