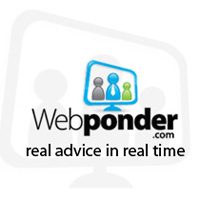 Visitors can ask a nurse questions, speak with an online auto mechanic about a car issue, or get legal advice from an attorney
Miami, Florida (PRWEB) February 20, 2013
Online business social media website Webponder.com, which provides the ability for its members to ask a nurse questions, or speak to an attorney through live video, has announced a variety of different profile upgrades for registered experts over the past two months. Webponder is looking to continue it's growth by registering experts in a broader range of fields of expertise.
There is no download, installation, or setup required to enter the video consultation, and Webponder has gone to great lengths to design an extremely user friendly experience that allows non-technical users to get face to face with an expert with just a few clicks of the mouse. Webponder's goal is to be the destination for real time advice from credible experts, whether you are looking to talk to an online auto mechanic about your car, or find someone to do your taxes for 2012.
Due to the increased demand for experts in a variety of fields nationwide, they are now increasing their efforts to provide visitors with reliable experts and professionals located across the country to respond to their inquiries.
To schedule a video consultation, the visitor goes to the expert directory and performs a search in the category and geographical location desired. For example, if someone were looking for free legal advice to speak with an attorney, they could perform the search and view profiles of attorneys who offer free consultations. Expert profiles can include background information, professional experience, educational credentials, uploaded informative articles and videos, and the professional's consultation rate at which they are willing to have a video consultation at.
Once the visitor decides on the expert they would like to have a video consultation with, they click on the "Request a Meeting" button, input the details of what they are looking to discuss, choose a duration, and request a specific date and time. The expert is then notified of the request, and can "Accept," "Deny," or "Suggest a New Time."
When it comes time for the video consultation to take place, both parties simple login, go to the meeting request dashboard, and click the "Join Now" button, and then they will be taken to their live, face to face, video consultation.