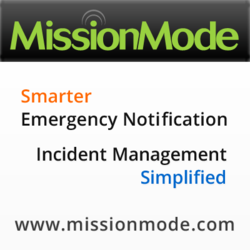 We're well-positioned to continue record-breaking growth and global expansion.
Chicago, IL (PRWEB) February 20, 2013
MissionMode Solutions, a leading provider of crisis communications and crisis management software, achieved another year of record growth in 2012, increasing sales by more than 70% and new customer count by over 60%.
To drive this growth, MissionMode has continued to innovate with new products and enhancements, as well as delivering a level of customer experience that is not often found in the industry.
MissionMode has unrivalled experience in making organizations more resilient by reducing the time, cost and risk of crises. Their web-hosted emergency notification and incident management software is used by industry-leading organizations across the globe.
"We're determined to continue helping organizations reduce costs, increase operational efficiencies and achieve organizational resilience", said Malcolm Hafner, CEO of MissionMode. "Everything we do reflects our genuine commitment to our customers, whether it be product improvements or customer experience. We're well-positioned to continue record-breaking growth and global expansion as we continue to widen the gap between ourselves and others in the emergency notification and incident management industry."
In 2012, MissionMode software was used in high-profile crises such as Hurricane Sandy, wildfires, earthquakes and tornadoes, as well as Olympic Games preparedness and response. It was also employed in continuous operations use in industries as diverse as manufacturing, transportation, logistics, finance and high technology.
About MissionMode
MissionMode Solutions, Inc. is a technology services provider dedicated to streamlining communications and facilitating team collaboration for crises and operational incidents. MissionMode's unique combination of emergency notification and incident management creates a web-based virtual command center that helps private and public sector organizations reduce the time between knowing about a mission-critical issue and doing something about it. MissionMode is a portfolio company of SilkRoad Equity LLC (http://www.silkroadequity.com), which specializes in public safety technologies amongst other high growth sectors. For more information, visit http://www.missionmode.com.