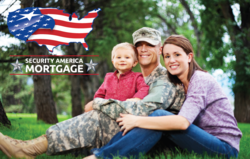 "We serve the Veteran community almost exclusively." - Sebastian Burfitt, Director of Compliance, Security America Mortgage, Inc.
Houston, Tx (PRWEB) February 19, 2013
According to the National Association of Home Builders (NAHB), its NAHB/Wells Fargo Housing Market Index (HMI) for February was virtually unchanged as builders experience uncertainties about the economy. The Index, a reflection of home builders' confidence in the housing market, declined one point from January's level to 46. Though the index remains steady, Security America Mortgage, Inc. VA home loan lending continues to increase, showing a gain of approximately 3% over the previous month.
NAHB surveys its residential builders monthly as to their impressions of the single-family home market on three parameters; current home sales, builders' expectations for sales over the next six months, and the current level of buyer traffic. The first two can be rated as "good," "fair," or "poor", the last as "high to very high," "average" or "low to very low." Scores from each component are then used to calculate individual seasonally adjusted indices and a composite index. Any index number above 50 indicates that more builders view conditions as good than poor.
"We follow the HMI to measure and target our efforts within the lending community, and our model is progressing with the ever changing financial landscape", said Sebastian Burfitt, Director of Compliance, Security America Mortgage, Inc. "We serve the veteran community almost exclusively, so our organization attempts to stay ahead of the trends in housing."
The index component measuring current sales conditions fell from 52 to 51. This was the first component to break through the critical mid-point since the beginning of the recession and has remained there for three months. The component measuring sales expectations over the next six months was up one point to 50 but the indicator of buyer traffic fell four points to 32.
"Following solid gains over the past year, builder confidence has essentially leveled out and held in the same three-point range over the last four months," noted NAHB Chairman Rick Judson. "This is partly due to ongoing uncertainties about job growth and consumer access to mortgage credit, but it's also a reflection of the fact that builders are now confronting rising costs for building materials and, in some markets, limited availability of labor and lots as demand for new homes strengthens."
"Having risen strongly in 2012, the HMI hit a slight pause in the beginning of this year as builders adjusted their expectations to reflect the pace at which consumers are moving forward on new-home purchases," observed NAHB Chief Economist David Crowe. "The index remains near its highest level since May of 2006, and we expect home building to continue on a modest rising trajectory this year."
Three-month moving averages for each region's HMI score were mixed in February, with the Northeast up three points to 39 and the West up four points to 55 and the Midwest and South each down two points, to 48 and 47, respectively.
Military Veterans can take advantage of utilizing their earned VA Home Loan benefits and buy homes now while the index holds steady and the abundance of quality housing remains available at affordable prices.
Security America Mortgage Inc. is a VA approved mortgage bank offering VA Home Loans in Houston and in 12 states throughout the country.