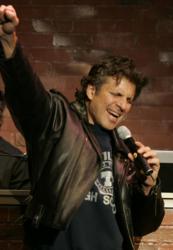 The New York Times raves A Jew Grows in Brooklyn is "funny, touching and beautiful... you don't have to be Jewish or Brooklynish…Jake Ehrenreich is dazzling!"
Irvine, CA (PRWEB) February 26, 2013
Jake Ehrenreich is bringing his smash Broadway hit, A Jew Grows in Brooklyn, to the Merage Jewish Community Center for two performances on Saturday and Sunday, March 16 and 17. The highly acclaimed show, which chronicles Jake's life, is an engaging, poignant and hilarious comedy musical about the search for identity and meaning.
From the streets of Brooklyn and struggle with his family's past, to the laughter and rebirth of Catskills summers, to his mother and sisters heartbreaking early Alzheimer's disease, this tour de force performance is a delightful journey that speaks to anyone hoping to live out the American Dream.
Through stories, comedy and music, performed with multi-media video and photos – including a classic rock medley (California Dreamin', Secret Agent Man, Sunshine of Your Love), a multi-instrumental version of Louis Prima's "Sing, Sing, Sing," and even a selection of Yiddish songs – Jake mesmerizingly recreates his unforgettable journey of discovery and lessons learned. From the stoops of Brooklyn to Rock n' Roll days--from the comedy and musical stages of the Catskills and Broadway to the bedsides of ailing parents and siblings, this show has a glow all its own and is touching, soulful, and laugh out loud funny.
For Ehrenreich, his show is ultimately a "celebration." He quotes Billy Crystal, who quipped that performing a show about his life was like "a visit with my family every night." Jake's story is personal and universal at the same time, and has now spawned a book by the "Chicken Soup for the Soul" publishers, a TV documentary, and a related feature film.
The New York Times raves A Jew Grows in Brooklyn is "funny, touching and beautiful... you don't have to be Jewish or Brooklynish…Jake Ehrenreich is dazzling!" The Philadelphia Inquirer calls it "An uplifting treasure with universal appeal—in the same elevated company as Billy Crystal's 700 Sundays, and Chaz Palminteri's A Bronx Tale."
The Merage JCC is offering two performances of Jake Erenreich's A Jew Grows in Brooklyn show on Saturday March 16 at 8 pm and Sunday March 17 at 4 pm. Reserved seating advance tickets are $25 for JCC members and $35 for the public. Tickets at the door are $40. The Merage JCC is located at 1 Federation Way in Irvine. For more information or to order tickets go to the website http://www.jccoc.org or phone 949-435-3400.