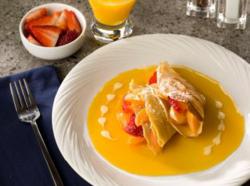 San Carlos, CA (PRWEB) February 19, 2013
Nothing brightens a winter day like fresh fruit, and Chile's exceptional sweet, ripe peaches and berries are the featured ingredients in this gluten-free crepe recipe that tastes like springtime.
Whether for breakfast, brunch or dessert, this recipe from the Chilean Fresh Fruit Association combines simple ingredients with Chile's summer-fresh fruits. Everyone will delight in this palate-pleasing recipe full of fruity goodness, and gluten-free flour makes these crepes a delicious treat for those on restricted diets, too.
Chile's fresh stone fruits and berries--blueberries, blackberries, raspberries, and strawberries--are in ample supply now in markets throughout North America. And with Chilean growers' renewed focus on flavor, their fruits pack all the fresh taste that kids and adults demand.
The fruit growers and exporters of Chile are passionate about providing the freshest, highest-quality fruit to North American consumers. That's why they've invested in state-of-the-art facilities and maintain the highest standards for food safety and quality. For more delicious recipes from the Chilean Fresh Fruit Association, visit http://www.fruitsfromchile.com/recipes. To learn more about the fresh-fruit producers, packers and shippers who comprise the Chilean Fresh Fruit Association, visit http://www.fruitsfromchile.com.
GLUTEN-FREE CREPES WITH CHILEAN FRUIT
INGREDIENTS
1¼ cups whole milk or soy milk
2 eggs
2 Tbsp. butter (melted)
1 cup gluten-free flour
½ tsp salt
1 tsp granulated sugar
⅛ tsp baking powder
2 cups orange juice
½ cup granulated sugar
2 tsps vanilla extract
3 peaches, sliced in ½ inch slices
1 pint strawberries, sliced into quarters (or equivalent mix of blueberries, blackberries, and raspberries)
INSTRUCTIONS
In a medium bowl, whisk eggs and milk together. Add melted butter. In a small bowl, blend flour, salt, sugar and baking powder and add to liquid mixture, and blend until combined. Refrigerate for one hour.
In a small saucepan over medium heat, combine orange juice and granulated sugar and simmer until mixture is reduced to 1 cup. Remove from heat. Add vanilla, blend, and set aside.
Lightly wipe the surface of a small nonstick skillet with butter or canola oil. Place skillet over medium heat. Pour approximately 1/8 cup of batter into hot skillet, tilting skillet until batter spreads evenly into a thin layer. Cook crepe until lightly brown, about two minutes, then flip with a pancake turner or spatula.
In a small bowl, combine the sliced peaches and berries. Spoon sliced fruits into the center of each crepe. Fold in half. Fold in half again forming triangle, four layers thick. Place two crepes on individual serving dishes and add ¼ cup of orange vanilla sauce.
OPTIONAL: add whipped cream, yogurt or ice cream if desired.
SERVES 8 (2 crepes per serving)
NUTRIENTS PER SERVING
177 calories, 4 gms protein, 5 gms fat, 43 calories from fat, 3 gms saturated fat, 63 mg cholesterol, 2 gms dietary fiber, 209 mg sodium
Recipe from the Chilean Fresh Fruit Association
# # #