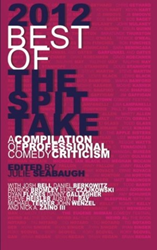 "Comedy is an artistic endeavor on par with music, film, literature, or visual art, and it's about time that Americans developed a more sophisticated palate for what they think is funny,"
Seattle, WA (PRWEB) February 19, 2013
When Americans go to the movies, a concert, or a gallery opening, they look for their favorite actor, band, or artistic genre. So, why is it that when choosing a comedy performance, the decision is often based on which venue is closest? Julie Seabaugh, a Doer at Brown Paper Tickets, is trying to change the way America devours comedy with the new book The Best of The Spit Take: A Compilation of Professional Comedy Criticism, released today by Paradisiac Publishing, and available for $11.99 at http://www.amazon.com/2012-Best-The-Spit-Take/dp/0985316861.
"Comedy is an artistic endeavor on par with music, film, literature, or visual art, and it's about time that Americans developed a more sophisticated palate for what they think is funny," Seabaugh says. What's the missing link? "Professional critical analysis that helps audiences actively seek out, appreciate, and respect the comedic talent that makes them think, makes them laugh, and makes them fall in love with thinking and laughing at the same time."
The world's first comedy-review compilation is based on work published on The Spit Take (http://www.thespittake.com/), Seabaugh's website of professional comedy criticism, which features timely analyses of albums, DVDs, specials, films, books, and live performances from a comedic gamut of relatively unknown talent, respected workhorses, and living legends.
Most major newspapers in the U.K. employ a comedy critic, whose work is given the same weight as professional reviewers of music, film, theater, literature, visual art, etc. In the U.S., print comedy coverage tends to be limited to an annual Comedy Issue, or rote and shallow, in a manner akin to a glorified calendar listing. Explains Seabaugh, "Very few publications take comedy reviews seriously, and none publish them very frequently. We are doing both."
The reviews in the book are contributed by some of the most respected comedy-loving journalists in the country. "I've always frowned upon the conflict of interest inherent when performers write about other performers," Seabaugh says. Unlike many comedy-news websites, The Spit Take's list of contributors regularly contribute to publications including Variety, New York Magazine, GQ, Rolling Stone, The Village Voice, Time Out NY, Las Vegas Weekly, The Denver Post, The Boston Globe, and many, many more, and they are all paid for their efforts. "The enjoyment of comedy can be subjective, but The Spit Take's contributors show not only why some material is inarguably of higher inherent quality, but why it matters. We prefer to provide context, insight, and unbiased honesty."
A reading event to celebrate the book's publication and the one-year anniversary of The Spit Take will be Thursday, Feb. 21, 6:30 p.m. at Manhattan's The Stand Comedy Club. Tickets are $5 and can be purchased by calling Brown Paper Tickets' 24-hour customer service at 1-800-838-3006, or online at http://www.brownpapertickets.com/event/324330.
The founders of Brown Paper Tickets are social entrepreneurs who invented the company's Not-Just-For-Profit business model as a way to make "paying it forward" a part of every ticket purchase. Five percent of profits have been donated to philanthropy and to building communities for the past decade. Seabaugh created The Spit Take and The Best of The Spit Take: A Compilation of Professional Comedy Criticism as a part of her mission for the Brown Paper Tickets' Doer Program, a $2 million community-engagement team that expands upon the Not-Just-For-Profit business model, dedicating the time, skills, passion and drive of six professionals, immersed in their industries, to the mission of building communities, with no sales goals or objectives. The Doer Program also helps to demonstrate company values of being willing to go the extra mile to help communities to be more successful. For more information, go to: http://community.brownpapertickets.com/Doers/index.html.
About Brown Paper Tickets: Brown Paper Tickets (http://www.BrownPaperTickets.com), the Not-Just-For-Profit ticketing company, revolutionized the industry by putting free, professional tools for ticketing any-sized gathering on the Internet, and continues to champion the rights of ticket-buyers with the lowest fee for the most service in the industry. The company donates 5 percent of the profit from each ticket sale to build communities and nonprofits, pays its employees to work 40 hours each year for the cause of their choosing, and employs a team of "Doers," experts in industries such as music, new media, makers, roller derby and more, to fix, improve and revolutionize the communities where we live, work and play.
###