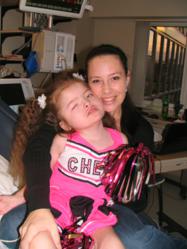 "I just couldn't imagine that there was someone out there who would be willing to help us. The time Spare Key provided my family was indispensable, which is why I became a member of the team." Nikki Lignell, Director of External Program Outreach
Minneapolis, MN (PRWEB) February 20, 2013
Spare Key, a Minnesota-based non-profit announced today that it is accepting applications for April housing payments for families with a seriously ill or critically injured child in the hospital.
The organization, started in 1997, has made mortgage payments to over 1,650 Minnesota families in more than 340 of the state's cities and 79 of its 87 counties. The goal of the program is to ensure that parents are able to remain key members of the child's care and recovery team in the hospital, without having to worry if they have to go back to work to pay their mortgage.
The organization's Board of Directors approved an expansion to North Dakota in December of last year, and Spare Key is now beginning to actively recruit Social Workers to assist in referring qualified family applicants to the program.
Nikki Lignell, Director of External Program Outreach at Spare Key knows first-hand the challenges facing families during a child's medical crisis. On December 20, 2004, her daughter Riley was born. A few weeks later, she was diagnosed with Aicardi Syndrome. The first few years of her life, the family struggled to control the disease but were able to handle it with a short stays in the hospital or medications.
"Shortly after her fourth birthday, Riley contracted pneumonia. We spent almost four months in the hospital and were told that things were not looking good for our little girl. This was the first time I had ever heard of Spare Key," explained Nikki.
"I just couldn't imagine that there was someone out there who would be willing to help us and that we would be chosen," Nikki added. "The time Spare Key provided my family was indispensable, which is why I became a member of the team and am so excited to begin working with families in North Dakota."
Spare Key requires that applicants have a dependent child (18 years of age, or younger) who has been hospitalized for 14 or more days in the past 90 days, and the applicant is a North Dakota homeowner current on their mortgage payments. Applicants must be current on their mortgage and demonstrate a significant reduction of income as a result of their child's hospitalization; or demonstrate the child's medical care has resulted in a significant increase in expenses. If the application is approved, the mortgage grant payment is made directly to the mortgage lender.
Nikki believes in power of this program and is excited that North Dakota families may now have the same opportunity she did saying, "Because of Spare Key's Mortgage Grant, I was able to take unpaid leave from my job and spend the rest of my time hugging and loving on my beautiful little girl until March 25th, 2011 when she found her spot in Heaven."
For Social Workers, hospitals or others in the health care industry who would like to learn more about Spare Key please contact Nikki Lignell, Director of External Program Outreach, Nikki(at)sparekey(dot)org or 952.406.8872.