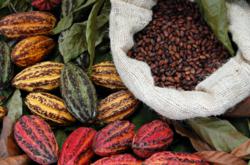 We find the natural, unique flavors of the cocoa beans we use to create our drinking cocoa don't require any sort of additive from us… they taste great naturally! - Tom Schumacher - RoastMaster and Owner of CocoaJoe LLC
Denver, CO (PRWEB) February 21, 2013
Drinking Cocoa is an innovative use of the cocoa bean and it looks to join coffee and tea as a standard beverage for breakfast or lunch or as an additional choice for after-dinner. CocoaJoe – Premium Drinking Cocoa is 100% naturally processed Cocoa Beans – nothing else added … no sugar, no caffeine, no flavors, any preservatives or chemicals of any kind. This is the pinnacle of healthy, dark chocolate.
According to Tom Schumacher - RoastMaster and Owner of CocoaJoe LLC, "We find the natural, unique flavors of the cocoa beans used to create our drinking cocoa really don't require any sort of additive… they taste great naturally!" he stated. "However," He added,"we have found the cocoa bean wants to be treated somewhat differently from a coffee bean, in that it should spend more time steeping in hot water. Like a tea leaf, the cocoa bean releases more flavor the longer it steeps."
For people searching for a healthy alternative beverage they can safely add to their diet – drinking cocoa or brewing cocoa is the answer. Vegans should be excited by the fact that they can safely drink roasted ground cocoa beans with no worry of animal by-products. Most Drinking Cocoas on the market contain no additives and the cocoa beans are 100% naturally processed. Studies show that Drinking Cocoa as a beverage is considered safe for diabetics because it contains absolutely no added sugars - (be sure to consult a physician with any concerns regarding adding brewed cocoa to any diet). Drinking Cocoa, with its proven ability to increase metabolism, is an excellent beverage for people on diets that are craving a 'dark chocolate' flavor without all the added dairy and sugar. Try drinking cocoa or brewing cocoa if caffeine makes for jittery nerves or the acids from coffee upset your stomach – the natural energy giver in drinking cocoa - Theobromine, gives a healthy boost and the lack of acids in brewed cocoa won't upset the tummy.
Naturally processed and ground, the cocoa bean is very easy to brew into a 'tea or coffee-like' beverage that contains large amount of antioxidants, minerals and vitamins. Long treasured by ancient civilizations and used in ceremonial chocolate drinks by priests and warriors, cocoa beans were termed as a 'Food of the Gods' in the early 1700's when Swedish naturalist Linnaeus coined the genus and species Theobroma cacao. For centuries the cocoa bean was used to create a beverage that was consumed because it tasted good – they had no idea that there were also immense health benefits to be had from drinking it. Unlike other natural beverages, the cocoa bean has a wealth of information available supporting its healthy properties.
CocoaJoe – Premium Drinking Cocoa LLC is looking to re-introduce this wonderfully healthy beverage to the masses.
CocoaJoe LLC is offering free shipping on their 2oz packages of Premium Drinking Cocoa. Order as many 2oz. packages as desired and shipping is included.