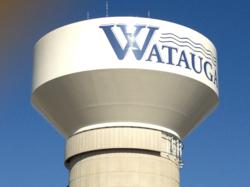 Watauga, TX (PRWEB) February 21, 2013
They say everything's bigger in Texas, and it's certainly true of the water tower here in Watauga, where two million gallons of municipal water cohabit daily with four floors of office space.
As the area's tallest structure, the tower had become encrusted with rather unsightly antennae designed to improve wireless signal throughout the area. But that strengthened signal was negatively impacting the aesthetic of this iconic structure.
Enter STEALTH® (http://www.stealthconcealment.com), the leader in wireless camouflage and concealment. Using its 20-plus years of experience, the company designed and manufactured 88 RF-transparent panels from its proprietary StealthSkin™ V material. Designed to mimic poured concrete, the resulting installation hides the hardware without impeding signal.
STEALTH was hired by Goodman Networks in Dallas, TX. Noted Senior Site Acquisition Manager, Todd Christian: "When it became clear that the Watauga tower really needed to camouflage all the wireless infrastructure it had acquired, it became just as clear that we needed to partner with a very experienced company. With more than two decades in the business, we were confident STEALTH was the right fit, and they proved us right."
While jobs like Watauga are each completely customized, the challenges inherent in the work is not new to STEALTH. The company's artists are masters of disguise, and have created convincing silos, water towers, antique edifices and more.
STEALTH Concealment Solutions was founded in 1992, and was the first U.S. company to engineer and construct antenna concealments for the wireless industry. The company has full manufacturing capabilities as well as a nationwide sales network. From church towers and flagpoles to cacti and trees, STEALTH has experience making every type of concealment and excels at finding solutions for difficult sites. The company's proprietary StealthSkin™ technology allows signals to pass through the concealment with minimal loss. Today, STEALTH spearheads more than 750 concealment projects nationwide per year for all wireless carriers.
STEALTH has been honored by the Charleston Metro Chamber and the Tower Technology Summit. The company's work has been featured in RCR Wireless, TIME Magazine, the Los Angeles Times, CBS, AGL magazine and on About.com.
For more information, call 800-755-0689.