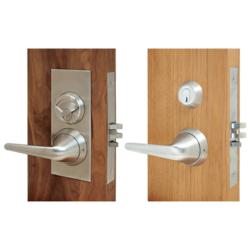 The quality of the construction, the uniqueness of the design and the flexibility offered by TownSteel's full line of anti-ligature products, makes TownSteel the logical choice - stated Jeffrey N. Dinardo
West Babylon, NY (PRWEB) February 19, 2013
Recently, Quality Door & Hardware,Inc. was asked for its recommendation for anti-ligature locks for use in specialized applications in healthcare facilities and detention centers. After careful consideration, their recommendation was the TownSteel line of anti-ligature locks. "The quality of the construction, the uniqueness of the design and the flexibility offered by TownSteel's full line of anti-ligature products, makes TownSteel the logical choice," stated Jeffrey N. Dinardo, Owner of Quality Door & Hardware, Inc.
Health care facilities and detention centers require specialized door hardware solutions, which will stand up to potentially abusive and high use environments and also minimize the risk of self-harm. TownSteel Anti-Ligature Locks are specifically designed for just such unique applications. In fact, TownSteel offers the most complete line of anti-ligature locks available in the commercial hardware industry.
TownSteel offers ADA compliant Anti-Ligature Lever Mortise Locks (MRX-L); Cylindrical Locks (CRX-L); together with, standard configuration Anti-Ligature Knob Mortise Locks (MRX-K) and Knob Cylindrical Locks (CRX-K). All of these quality products are available with Saniguard antimicobial coating that resists bacteria. TownSteel Anti-Ligature Locks are constructed with high quality stainless steel components and are uniquely designed to impede the ability to attach laces, cords, lines and other objects to the lock set.
Quality Door & Hardware, Inc. is proud to feature the complete line of TownSteel Anti-Ligature Locks at everyday competitive prices on our website located at: http://www.QualityDoor.com. Please visit our website today to learn more about the TownSteel line of anti-ligature locks and all the other quality commercial door hardware products we feature. Quality Door & Hardware, Inc. has been a commercial door hardware industry leader and innovator for over 25 years. At Quality Door & Hardware, Inc., we are well known for our unparalleled customer service and competitive prices. This is why we invite you today to experience firsthand "the difference that 'Quality' can make in your business.