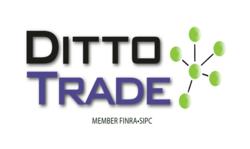 Chicago, Illinois (PRWEB) February 20, 2013
Ditto Trade, the only online broker to allow individuals to execute trade signals from a newsletter or subscription service directly from their mobile device, today announced the addition of Zacks Investment Research to its platform.
Ditto Trade's proprietary mobile technology enables Individual investors with a Ditto Trade account and a Zacks subscription to receive real-time trade alerts from select Zacks subscription services and act on them with the press of a button on their mobile device.
"We are very excited to provide Zack's subscribers with the ability to better realize the full value of their subscription with our unique mobile technology" said Paul M. Simons, CEO of Ditto Trade. "The addition of the investment strategies offered by Zack's premium services to our platform for Ditto Trade clients to follow is a significant enhancement to our offering".
"Up to now, we've been sending out trade alerts by email, which requires our customers to open their browser, log into their brokerage account, and enter all the trade details for each and every trade. Ditto Trade has brought that process into the 21st century by distilling the whole trade execution process into a single screen tap." said Bryant Sheehy, Business Development Director for Zacks. "The increased convenience this provides our subscribers is very exciting."
About Ditto Trade
Ditto Trade is the premier social investing firm and the only online broker to allow individuals to participate in the actual trades of experienced investors, advisers, and other trusted relationships. Ditto Trade also enables individuals to execute trade signals from a newsletter or subscription service directly from their mobile device. With its real-time trade notification and actionable mobile alerts, Ditto's proprietary technology makes it the first company with a monetization engine for online financial and social media. Ditto Trade has been featured on CNBC and in Fortune, Barron's, USA Today and other publications. Ditto Trade is a member of FINRA and SIPC and is a licensed broker-dealer in all 50 states. http://www.DittoTrade.com
About Zacks
Zacks Investment Research is a Chicago-based firm that serves institutional and individual investors. In 1978, Len Zacks, a Ph.D. in Mathematics from M.I.T., published his discovery that: "Earnings estimate revisions are the most powerful force impacting stock prices." Then he developed a quantitative model to harness the power of that force – tracking the direction, degree of change, and surprises along with other important variables to create the Zacks Rank. Today, its cold, objective truth is blended with qualitative analysis. This professional-strength research is now available to individual investors at http://www.Zacks.com.