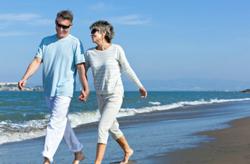 "This atmosphere lends itself perfectly to our sacred and conscious approach to sexuality."
Encinitas, CA (PRWEB) February 20, 2013
Ecstatic Awareness, an institute for intimacy coaching and conscious sex education, is pleased to announce it has relocated from the the San Francisco Bay Area to its new office in San Diego's North County. On February 1, 2013, Ecstatic Awareness Institute moved its base to South Vulcan Ave. in Encinitas, California 92024.
The new office will be used as a base for much of the individual intimacy coaching and evening classes made available by Ecstatic Awareness. However, many of the training seminars and workshops offered by the Institute will continue to serve both local and international audiences in select areas. Their new office in Encinitas will enable the Institute to grow its student body in southern California and make its teachings widely available through today's advanced technological world.
"Encinitas is a popular center for spirituality and yoga. This atmosphere lends itself perfectly to our sacred and conscious approach to sexuality," stated Triambika Ma Vive, founder of the Ecstatic Awareness Institute. "San Diego's climate makes it a great place to come learn about being more comfortable in your body. The community here tends to be very holistic and health conscious. We guide people on how to have a healthy integrated sexuality, it's the ideal combination".
While Ecstatic Awareness has long served its students via the internet much of the deeper work involving relationship issues and healing sexual wounding is done in person. Relationship and intimacy coaching is an ideal way to facilitate growth and change. The new office location will provide a comfortable space for individuals and couples to learn to take their intimate life to a whole new level.
Ecstatic Awareness is an emerging educational institute dedicated to bringing high-level quality teachings about conscious intimacy and the art of loving relationships. For more information contact Triambika Ma Vive at dakini(at)ecstaticawareness(dot)com - 1-510-205-3569 – Ecstaticawareness.com