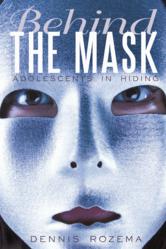 Parents often feel that their teens aren't listening to them and don't care what they have to say. This is far from the truth
(PRWEB) February 20, 2013
Stories of unstable teenagers seem to dominate today's headlines, with tales of ruthless bullying, staggering suicide rates, rampant drug abuse, and unbelievable acts of violence.
But adolescent therapist and former high school crisis counselor Dennis Rozema is determined to help troubled teens break the trend.
In his new book Behind the Mask, Rozema takes readers inside the adolescent mind to help teenagers and their families overcome issues such as depression, anxiety, addiction, and suicidal thoughts.
Using quotes and personal stories from real-life adolescents, Rozema examines the issues facing today's teens and offers advice on tackling these challenges and uncovering your true potential.
Rozema was inspired to write the book after receiving the journal of a former student who had recently committed suicide. Wanting to share her story with her former crisis counselor and other troubled teens, the student had requested the journal be given to Rozema upon her death. The journal serves as the basis for Rozema's book, offering a hauntingly realistic and intimate look at the thoughts of a suicidal adolescent.
Rozema is dedicated to making a positive difference in the lives of troubled teens, and hopes that the stories of other teens combined with his advice and coping strategies, will help distressed adolescents overcome their issues.
Although a valuable resource for struggling teens, Behind the Mask is also written for the parents, family and friends of these adolescents. Rozema hopes that the book will help this group better understand the challenges facing their loved ones, and provide advice on ways to offer support and guidance to these individuals.
"By being there for someone who is struggling, you can literally save a life," says Rozema. "Parents often feel that their teens aren't listening to them and don't care what they have to say. This is far from the truth. Being a consistent source of love and support can truly make all the difference."
Behind the Mask: Adolescents in Hiding
By Dennis Rozema
Retail price: $12.95 soft cover, $22.95 hard cover
ISBN: 978-1-4502-8357-1
Available at Amazon.com and barnesandnoble.com
About the author:
Dennis Rozema is a licensed professional counselor and adolescent therapist specializing in adolescent mental health issues. Formally, Rozema worked as a high school crisis counselor in suburban Detroit. He was named Michigan Counselor of the Year in 2000, and is involved with the Michigan Counseling Association, Michigan Mental Health Counselors Association an American Counseling Association. He currently practices in Birmingham, Michigan, and resides in Rochester Hills.
# # #