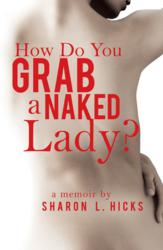 I was always meant to write my mother's story.
Honolulu, Hawaii (PRWEB) February 20, 2013
A mother is supposed to be the role model- the one bailing their child out of ridiculous situations, offering words of wisdom and leading by example. She shouldn't be the one parading around naked in public, cursing out store employees, getting arrested, being committed and then taught by her daughter how to chop carrots upon her return from the mental hospital.
In her provocative award-winning memoir, How Do You Grab a Naked Lady?, Sharon L. Hicks details her childhood raised by two opposing forces- a flamboyant, bipolar, schizophrenic mother and an idealist, role model father. Desperate to escape the pressures of her family as she enters adulthood, Hicks attempts to distance herself from her outrageous, uncontrollable mother, only to discover that she can't escape the inevitable.
With themes of self-discovery, unbreakable bonds, societal expectations, and the façade of the American Dream, she candidly exposes the realities of mental illness with humor and touching honesty.
Indicative of bestsellers like Running with Scissors, The Glass Castle and The Liar's Club, Hicks' memoir is set apart with her emphasis on the rippling effect of a dysfunctional upbringing through adulthood and the reality of mental illness behind the white picket fence.
Winner of the Southern California Writers' Conference Outstanding Non-Fiction Award 2012, the tell-all memoir is full of twists and turns, racy encounters and unbelievable tales.
"I was always meant to write my mother's story," says Hicks. "I knew it would shock and entertain- the way she lived out loud, exposed to the world. The book is full of OMG moments, sex and humor. It seems almost fantastical, but it was my reality."
How Do You Grab a Naked Lady?
By Sharon L. Hicks
Website: http://www.sharonlhicks.com
Available at http://www.amazon.com and http://www.barnesandnoble.com
About the author
Sharon L. Hicks is a retired executive living in Honolulu, Hawaii. She is the daughter of businessman and community leader Harold E. Hicks, whose company, Hicks Homes, built over 20,000 affordable pre-designed homes in Hawaii. This is her first book, inspired by her mother.
# # #