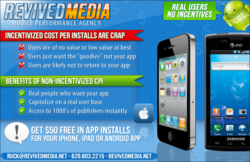 Revived Media's Cost-Per-Install (CPI) model has proven to be extremely successful for Android and iOS App Developers across the gaming, dating and education verticals
Kansas City, MO (PRWEB) February 21, 2013
Revived Media, a global leading Mobile Performance Marketing Agency has announced today the milestone of delivering over 1,000,000 monthly mobile app installs to Android and iOS App Developers. Following the experienced growth of the mobile performance marketing agency, the company has seen a significant increase in mobile app developers and mobile app advertisers taking advantage of the cost per install marketing basis the company has integrated.
Revived Media's Cost-Per-Install (CPI) model has proven to be extremely successful for Android and iOS App Developers across the gaming, dating and education verticals. In a statement issued by Revived Media CEO Ralph Ruckman, Ralph said "Revived Media is proud to be at the fore-front of the cost per install performance marketing Industry. Revived Media has been experiencing significant growth with major mobile app developers in the gaming and education verticals since offering performance based marketing."
In order to acquire new users, application developers are spending more than ever on advertising. Developers have been turning away from more traditional advertising models, like cost-per-mille (CPM) and cost-per-click (CPC), in favor of cost-per-install (CPI, a developer only pays for ads that result in a user installing his or her application). Because developers only pay for installs, many of them assume that CPI is more cost-effective and results in better lead quality than other advertising models.
CEO Ralph Ruckman stated "Installs give developers access to valuable information about their new customers, including age, gender, location, interests, marital status, educational background, friends, and more. Developers also acquire reliable communication channels, which allow them to talk to their customers and engage in relationship marketing so that they may maintain sustained, valuable customer relationships."
This announcement is on the heels of a string of other achievements Revived Media has experienced over the last year in mobile marketing and advertising.
About Revived Media:
Revived Media is a performance based Mobile Lead Generation and Digital Ad Agency headquartered in Kansas City, Missouri. We work directly with Corporations, Agencies, Affiliates, Advertisers and Developers world-wide to drive high-quality leads and sales through our highly trained and experienced Internal Media Buying Team and fraud-free publisher base.