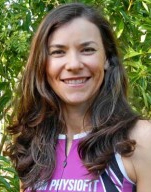 What we're really doing is empowering women one race at a time.
Ft. Myers, FL (PRWEB) February 21, 2013
It's a given that any new business needs an online identity to help it get off the ground. For PhysioFit Coaching it was no different –and with a new triathlon coaching website to get them off the ground, they'll soon be helping prospective triathletes get off the ground, too – and into the water and onto bicycles.
PhysioFit Coaching was founded by owner Jennifer Fugatt, with the mission of making triathlon accessible to all, and works with triathletes and prospective triathletes all around the United States to help them grow both as people and as athletes by providing coaching, training plans, camps and clinics in various locations. PhysioFit Coaching also trains the Ft. Myers-based triathlon team Team PhysioFit, which aims at helping women of all skill levels and ages successfully complete triathlons.
"With Team PhysioFit, it's about so much more than just an athletic event," says Fugatt, who is also a USA Triathlon-certified coach and licensed physical therapist. "Training for an event and then finishing it is an uplifting experience. It puts smiles on women's' faces, and lifts them up. What we're really doing is empowering women one race at a time – and I'm really excited that the new website and branding will let us take that empowerment to the next level."
The new website, besides containing general information for the public, also features event calendars and a members-only area where Team PhysioFit members can privately share their experiences, their challenges and their victories with each other, along with member photos and videos of training and competitions.
Natalie Dewhirst, co-founder of ThreeTwelve Creative, the Ft. Myers web design and online marketing company who built the website, was happy that ThreeTwelve was able to meet PhysioFit's needs and exceed PhysioFit's expectations. "We designed the site and its content so that people considering triathlon training would have a valuable resource. At the same time, we also had to make it a resource for current and future members of Team PhysioFit," said Dewhirst. "I'm proud of our staff here who were able to fuse those two distinct use cases into a whole that's greater than the sum of its parts."
Anyone interested in receiving triathlon coaching, joining Team PhysioFit, or just reading up on training-related topics is encouraged to visit the PhysioFit Coaching website at http://physiofitcoaching.com/.
About PhysioFit Coaching
PhysioFit Coaching is based in Ft. Myers, Florida but offers training plans, coaching, clinics and camps all over the United States. Coaches Jennifer Fugatt and Pat Curr are both USAT-certified triathlon coaches and licensed physical therapists, ensuring that the training and advice they provide through PhysioFit will help those training for a triathlon both enhance performance and avoid injury.
About ThreeTwelve Creative
ThreeTwelve Creative, LLC is a web design, development and digital marketing company based in Ft. Myers, Florida. With clients throughout south Florida, ThreeTwelve Creative brings years of design, development and marketing experience to the table in everything they do. They are also very good looking, and a little quirky :) To see how ThreeTwelve Creative helps clients with their Complete Online Presence, drop by http://threetwelvecreative.com or email them at creative (at) threetwelvecreative (dot) com today! Exclamation point.