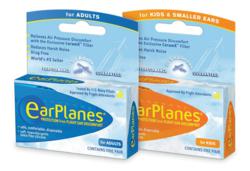 COLD SPRING HARBOR, NY (PRWEB) February 21, 2013
EarPlanes™, the uniquely-designed ear plug worn during flight to reduce and prevent uncomfortable ear pressure – including the clogging, popping, pain, or even temporary hearing loss that can result – can help the 25% of travelers who experience this condition, also known as barotrauma. For two decades, these doctor- and flight-attendant-recommended ear plugs have been providing travelers with a way to take the pressure out of air travel, so in celebration of its 20th anniversary, the EarPlanes experts have come up with 20 tips to help take the pressure out of one's next trip:
1.The Early Bird…Takes Flight: When booking a flight, opt for booking the first flight out in the morning. What one loses in sleep one gains in the likelihood that their flight will leave on time.
2.Digital Documents: Keep a scanned copy of your passport, license and other important documents on a laptop, smart phone, tablet or e-reader. While they may not be official, it will help to have them handy in the event they are lost or misplaced.
3.Navigate the Airport Ahead: Many airports have a layout of the terminals and parking facilities available online, so check it out prior to arriving to better navigate the airport, which can be overwhelming for families or occasional travelers who are driving themselves.
4.Snack Attack: Whether traveling alone or with kids, it's important to bring along non-perishable snacks in case of flight delays or limits on food offerings on the plane, in the terminal or even if one arrives late to their hotel.
5.Free Your Ears: Take off and landings can result in painful ear discomfort as there are changes in cabin pressure, particularly with children since their Eustachian tubes are narrower than those of adults. EarPlanes™ for adults or kids are unique ear plugs that have a patented design to regulate air pressure to prevent pain and popping, yet still allow one to comfortably wear headphones and hear airline announcements, movies and music.
6.Carry It: If possible, avoid checking luggage, opt for a carry-on instead. Better to divide up items into four different carry-ons vs. packing a family of four into one suitcase as this may cause extra weight charges on baggage and risk checked luggage arriving at a different time then the flight.
7.Sit Up: Up front, that is! Most online booking sites offer pre-flight seat selection. Pick a seat closest to the front so disembarking from the plane is faster, especially if there's a connecting flight to catch.
8.Pre-Screen: Frequent travelers should consider investing in TSA Pre✓™, which allows select frequent flyers of participating airlines and members of U.S. Customs and Border Protection (CBP) Trusted Traveler programs to receive expedited screening benefits during domestic travel, including leaving on one's shoes, light outerwear and belts as well as keeping laptops and compliant liquids in carry-on bags.
9.Don't Get Carry-ed Away: Do a quick check of all carry-on bags right before leaving the house. Kids have a funny way of sneaking things into their backpacks when no one is looking. Grandmas are equally as guilty.
10.Slip-On Simplicity: During security screenings, belts, shoes and all similar items need to be removed, so make it easy by avoiding wearing shoes or boots that need a lot of lacing/hassle to take on and off, as well as accessories that need to be taken off.
11Drink-Up: Staying hydrated is important. The stress of traveling and the dry, cabin atmosphere makes the body dehydrate very quickly. Since full water bottles, and other drinks, cannot be brought through security, bring an empty water bottle and fill it at a water fountain.
12.Get Charged: Pack a cell phone charger in a bag that is easily accessible, such as a carry-on. Odds are it'll be needed the most when the phone is on its last battery life.
13.Connection Chaos: Avoid booking connecting flights too close together. It may seem convenient, but a longer layover may mean not missing the second leg of a trip if the first plane is behind schedule.
14.There's an App for That: Smartphone apps can do most anything nowadays, except fly the plane. From weather forecasts to airport food guides and plane schedule updates, there is likely an app to help track and organize one's trip ahead of and in real time. For a review of some of the newest travel apps, visit http://travel.cnn.com/appy-traveler.
15.Book a Bundle: There are many package deals that one can save money on by booking hotels and flights together. Basically, the more business they are given, the better the discount that'll be passed along.
16.Tag You're It: Luggage on the baggage carousel can be easily identifiable by uniquely tagging it with a brightly colored ribbon or key chain. Not only is this a timesaver, but also saves one from potentially picking up or taking the wrong bag.
17.Bring Identification: For kids under 2, this is essential. Believe it or not, airlines are not as worried about whether the child's guardian is with them as they are about making sure a seat for a child more than 2 years of age has been paid for. While the airlines may not request to see ID for young ones, bring it just in case since you might not be allowed to board if you don't have it. And of course, never place any important documents in the seat pocket in front. Chances are they might be forgotten on the plane.
18.Plug 'Em Up: If traveling with two or more kids, bring headphones and an adapter so they can plug into the same laptop at once and enjoy a movie together.
19.Get Creative: Long flights can be tough on kids, so find ways to entertain them like making up stories using the flight safety manual by giving the characters names. Or, provide reading material about your destination, so they learn some facts about where they're visiting.
20.Say Cheese: For the camera, bring more batteries than needed as well as an extra-large storage card or laptop along with a camera cable. Don't want to miss any special moments, even on the flight!
EarPlanes™ for Adults and EarPlanes™ for Kids (ages 1 to 11, or adults with smaller ears) is the number-one ear plug recommended by doctors and flight attendants for air travelers. They are available at major drug, mass market and airport retailers, such as CVS, Walgreens, WalMart, Paradies, Hudson News and many others for an average retail price of $9.00.
For more information, visit http://www.earplanes.com or connect with the brand on Facebook for special offers, tips and giveaways: http://www.Facebook.com/EarPlanes.
-0-