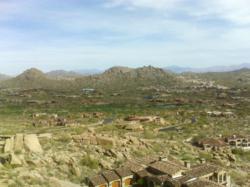 Phoenix AZ Real Estate gives map and photo based search access to all listings in the Phoenix area. Upon launch, 35,000 listings became available for search
Phoenix, AZ (PRWEB) February 20, 2013
Phoenix Area Real Estate Professionals Introduce New Real Estate Search
Phoenix AZ Real Estate introduces a property search engine for the Phoenix metropolitan area. This search pulls current information directly from the Arizona MLS listing Service. Unlike many realtor websites which concentrate first on their own listings, Phoenix AZ Real Estate gives map and photo based search access to all listings in the Phoenix area. Upon launch, 35,000 listings became available for search. Users can refine searches within a specific area by numerous parameters, such as property features, relationship to specific schools or school districts, price, age of property and others.
Phoenix AZ Real Estate was created by Nick Andrews, with decades of experience in the Phoenix real estate market. Nick Andrews describes the mission of Phoenix Real Estate as, "Making buying or selling real estate a simple and convenient process that benefits the clients above all others."
The website can be accessed at http://Phoenix-AZ-RealEstate.com. For those interested in real estate market research in the Phoenix area, the website search function also facilitates searches for sold properties to help find out where home values in a particular area are heading. Nick can be contacted by filling out the free form at http://Phoenix-AZ-RealEstate.com - tell him you saw it on the web and you will get a free Comparable Market Analysis for any Phoenix Area you choose.