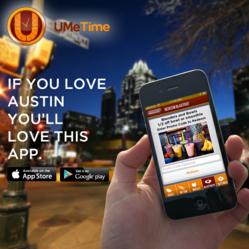 The app's big draw — for merchants and its users — is its "Blastout" feature, where deals can be created on the fly by stores and sent out to users immediately, who receive an alert on their phone.
Austin, Texas (PRWEB) February 21, 2013
Available now on iTunes and Google Play, the free UMeTime app offers a user-­‐friendly and personalized experience for consumers with offers from merchants specific to downtown Austin. Uniquely crafted for the benefit of the local community, this fresh new app aims to revolutionize the local deal with geographically based offers updated in real-time.
Created by lifelong friends and young entrepreneurs Tim Rothwell and Brett Berman, the UMeTime app was born in response to the disconnect between the current daily deals marketplace and the types of lifestyle offers that users were looking for. After studying market trends, Rothwell and Berman saw a need for a technology that was relevant to the individual consumer and would allow merchants to connect with customers in a more personal way.
"While consumers have plenty of deal-related apps or subscription-based email offers to choose from, merchants are lacking a way to connect in real time to their core customer base," said Rothwell, co-founder of UMeTime. "It is our goal to help businesses communicate with their customers and build relationships with them that help grow their business."
Features for Consumers:

My Tab: Add favorite places to My Tab to quickly access customized UMeTime offers.
Deals: Search by category to get real‐time daily deals: activities, food & beverage, health & beauty, pets, services and more.
Wallet: This feature tracks and manages purchased deals, gifts to send, gifts received and history.
Blast-out: This is a unique push-notification feature that offers users fresh deals within a two-mile radius of their current GPS location.
App Features for Merchants:

Instantly create deals and specials for local residents and visitors.
Receive real‐time sales and marketing analytics.
Maintain brand integrity and improve brand awareness
Full control over offers and timing of deals
Creative option to add text, images and video to offers.
Designed for both consumers and merchants, UMeTime is changing the way customers and businesses interact with one another. Users can personalize the app to update deals specific to their interests and location and "follow" the businesses they like to receive real-time updates. Businesses can target local consumers with "blast‐outs" specific to a certain time of day in order to drive business during slower hours and create deals that update within minutes. The app interface is highly accessible to merchants and consumers, enabling users to filter based on personal preference and letting businesses create deals with ease. UMeTime will feature offers for Austin, Texas and is currently preparing for South by Southwest Interactive. Businesses that are downtown Austin will be running exclusive offers and real-time Blastouts geared towards SXSW participants. Local hotels will be partnering with UMeTime during SXSW to highlight the bars & restaurants located within the hotel, and utilizing the video component of the Blastout technology to showcase any live music events that will be running throughout. The UMeTime team is committed to creating a unique service for the Austin communities and will be hosting a series of fundraising and awareness events to benefit local charities.
CultureMap Austin: "The app's big draw — for merchants and its users — is its "Blastout" feature, where deals can be created on the fly by stores and sent out to users immediately, who receive an alert on their phone.
"What we've done is try to make the platform as simple as possible," Berman says. "We've made [it] so that my grandmother, who's not very tech-savvy, could use it. The feedback so far is pretty good."
It's a way for merchants, Rothwell says, to capitalize on downtimes and low foot traffic and lure potential customers for a spur of the moment, limited-time deal. The app uses phones' GPS technology to only send out deals within close range, so you could literally stumble upon a deal.
In a moment of filmic serendipity, a user of the UMeTime app, just two days into the company's public launch, redeemed a deal with elation right in front of us during an early meeting with Rothwell at Blenders and Bowls, which sells Açaí bowls and smoothies inside of Wanderlust Yoga downtown."
Austin Chamber of Commerce: "An Austin startup technology company, UMeTime, is changing the way businesses are connecting with new customers. They have built a platform that gives local business the ability to control and offer deals at their convenience. Whether you are a business that needs to speed up your slow hours, fill your empty chairs & tables, or sell sitting inventory, UMeTime offers merchants the capability to overcome these barriers and drive sales and revenue. Even more excitingly, merchants only pay once customers are delivered to their business."
Contact:
Timothy Rothwell: Co-Founder
tim(at)umetime(dot)com
Brett Berman: Co-Founder
brett(at)umetime(dot)com