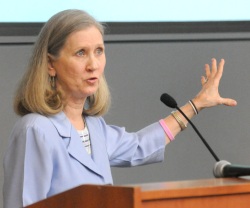 "If we want to end human trafficking we have to work to change our culture and address the issues that are fueling human trafficking."
Nashville, Tennessee (PRWEB) February 21, 2013
Human Trafficking Conference 2013
Announcing the Third Annual Human Trafficking in America Task Force Conference to be held in Nashville, TN this year May 23rd – 25th 2013 at The Inn at Opryland (formerly the Radisson) Public Invited.
Nashville, Tennessee: Yvonne Williams, co-founder and President of Trafficking in America Task Force has a mission to help end human trafficking, which is modern slavery.
The Human Trafficking In America Conferences aren't just an annual gathering of people that come and go. They are designed for the general public to become informed and educated by Experts and Authorities; to protect their at-risk youth, and to mobilize and engage people across America to help turn this horrendous crime of human trafficking around.
The human trafficking conference team gives great thought to topics that will help make an impact in the lives of those that attend. The 2013 Anti Human Trafficking Conference offers a slate of speakers this year that will address our attendees with the awareness and practical tools they need to make a difference and save lives.
According to the U.S. Department of Justice, human trafficking has become the second fastest growing criminal industry — just behind drug trafficking — with children accounting for roughly half of all victims-USA Today-1/22/2012
The 2013 Human Trafficking Conference May 23-25th key speakers include: Thursday - Laura Lederer, JD – Key note: Demand Reduction; ; Linda Dixon: Department of Defense (pending confirmation); Friday - Cook County (Chicago) Sheriff Tom Dart: Law Enforcements Role in Affecting Cultural Change; Agent Greg Christopher, FBI; Debra Moser- Finney, EEOC and Labor Trafficking; Lynn Walsh: Fatherless Homes and Their Effects on Children; Saturday – Joan Keddell: International Tourism Management Institute and their role in addressing human trafficking; Frank Schaeffer, Key Note: Living One's Religions through Combating Human Trafficking; and a panel of former Pimps and Johns on Saturday (still in the works), as well as survivors of HT.
After evaluating the progress of the previous two years, Mrs. Williams and her team will unveil the next phase of their organization's mission: the creation of the Trafficking In America Task Force Alliance, a fusion to unite the NGO's that are new to human trafficking in America, and offering oversight and management which will allow them greater opportunity for the success of their visions.
And, we will be able to create a stronger force in the country with us all speaking and moving with one voice rather than being scattered and unconnected. New NGO's need direction and they need support and we believe this is another way that we can help stop human trafficking in America.
People's hearts are being torn apart by this issue and they want to truly make a difference. With the implementation of this aspect of our mission, we can create and fill the gaps in each state. We are seeking National Program Managers at this point that can help with the formation of the umbrella.
What is Human Trafficking?
Article 3, paragraph (a) of the Protocol to Prevent, Suppress and Punish Trafficking in Persons defines Trafficking in Persons as the recruitment, transportation, transfer, harbouring or receipt of persons, by means of the threat or use of force or other forms of coercion, of abduction, of fraud, of deception, of the abuse of power or of a position of vulnerability or of the giving or receiving of payments or benefits to achieve the consent of a person having control over another person, for the purpose of exploitation. Exploitation shall include, at a minimum, the exploitation of the prostitution of others or other forms of sexual exploitation, forced labour or services, slavery or practices similar to slavery, servitude or the removal of organs. (courtesy of http://www.unodc.org)
About Trafficking in America Task Force
Trafficking in America Task Force is a 501c3 non-profit charitable organization and has been working since 2004 to educate the American population about the reality of the sale of American women, men, and children into sexual slavery for the profit and pleasure of their perpetrators, and that the forced labor trafficking of both adults and children is real in this country.
Our Vision is
To help eliminate the human trafficking of women, men and minor children in America, and to provide a culture for our children free of sexual exploitation and slavery, where people know and own their own intrinsic value.
Contact Information
Yvonne Williams
Trafficking In America Conference to end human trafficking
Phone: 1-615-815-7068
Register Now at http://traffickinginamericaconference.info for Early Bird Discounts