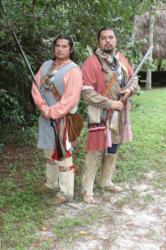 The longest and costliest War in US history...and through it all, we remained unconquered
Big Cypress Seminole Indian Reservation, Clewiston, Florida (PRWEB) February 22, 2013
What: Seminole Tribe of Florida will present a reenactment of the Second Seminole War at the Big Cypress Shootout at Billie Swamp Safari
The battle reenactments honor the Seminole's struggle and sacrifice to remain in their homeland and will feature authentic weapons, soldier and warrior attire and tactics typical of the Second Seminole War.
The three-day event will also include music, Seminole food, Seminole and pioneer artisans, tomahawk throws, primitive archery competition, authentic Seminole and soldier camps, venomous snake shows and alligator wrestling. "Period settlers" from around the country will hew wood, iron and silver crafts and depict trading techniques from the Seminole war era.
Special guests include: Okefenokee Joe, Benjamin Dehart (The Cracker Tenor) and Tim Charron.
When: March 2-3, 2013 (Saturday and Sunday). Gates open at 10:00 a.m. and close at 5:00 p.m. The battle reenactments will take place at 11:00 a.m. and 3:00 p.m. on Saturday and at 2:00 p.m. on Sunday. Friday, March 1 is an educational day for school groups and will feature cannon firing and displays.
Where: Billie Swamp Safari, located between Fort Lauderdale and Naples, on the Big Cypress Seminole Indian Reservation just north of I-75 (Alligator Alley) Exit 49.
Who: In the 1830's, the United States was attempting to enforce its policy of Indian removal. The Seminoles were facing the loss of their homeland and their freedom. After broken treaties and failed peace parley's, the Seminoles took up arms against removal. The US Government thought they could quickly overpower the Seminoles and waged the fiercest of all wars ever waged between the US Government and Native Peoples. They burned settlements and captured, killed and scattered many Seminole families. This seven-year war cost more than the American Revolution and involved 52,000 soldiers fighting against less than 2,000 warriors. The Seminoles fought with courage and determination and had a unique knowledge of the land. Although many Seminoles were killed or removed to present-day Oklahoma, they were never defeated, and to this day, their 3500 descendants are known as "The Unconquered" Seminole of Tribe of Florida.
Cost: $9 adults, $6 children
Cash Only
Contact: For more information, call: 1-800-GO-SAFARI, email: shootout(at)semtribe(dot)com or visit us online at http://www.bigcypressshootout.com.