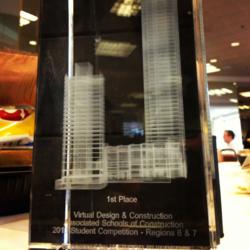 San Diego, Calif. (PRWEB) February 20, 2013
A team of NewSchool of Architecture and Design(NSAD) students won first place in the category of Virtual Design and Construction at the Associated Schools of Construction (Regions 6 and 7) 2013 Student Competition near Reno, Nev., Feb. 5–8. NSAD competed against student teams from 11 other schools around the country. The San Diego school's winning team was composed of six students from the architecture and construction management programs.
This was NSAD's first time participating in the competition, making the win particularly significant for the school's relatively new construction management department, which introduced a Bachelor of Science in Construction Management program in 2010. A fully online Master of Construction Management program was added in 2011. The win also highlights the opportunities for interdisciplinary learning at NSAD The team of architecture and construction management students competed against 11 other schools from around the country in the Open Category of Virtual Design and Construction at John Ascuaga's Nugget Casino Resort in Sparks, Nev., just outside of Reno.
"We are extremely proud of our NSAD student team members, who demonstrated their superb professionalism, diligence and talent at this challenging competition against some of the top construction management students in the country," said NSAD President Steve Altman. "The participation of students from both our architecture and construction management programs also demonstrates the benefits of interdisciplinary learning, which is encouraged here at NSAD."
NSAD student team members included Jake Jaenicke, Vincent Macias and Joe Kovac, who are all enrolled in the Bachelor of Science in Construction Management program, and Steven Hansen, Antonio Barragan and Athena Dadiz, who are all in the Bachelor of Architecture program. Other NSAD students involved in the competition were German Morales, who served as a team alternate, and Charles Marion, who served as student coach. Both are enrolled in the Bachelor of Science in Construction Management program. The team's faculty coach was George Welch, who is interim chair of NSAD's construction management department.
Former Construction Management Chair Linda Thomas-Mobley, now NSAD's dean of academic and student affairs, and Construction Management Advisory Board members also provided support to Welch and the students. Specialists with Balfour Beatty Construction— including Brad Hardin, national vice president–technology, and Elizabeth Angel, BIM manager—assisted the students in preparing for the competition.
NSAD is holding an Open House Saturday, Feb. 23, 2013 for those interested in learning more about study opportunities at NSAD in the architecture, interior design, digital media arts and construction management fields. Open House information available at: http://openhouseatnewschool.eventbrite.com/#
About NewSchool of Architecture and Design
NewSchool of Architecture and Design (NSAD), founded in 1980, is located in San Diego, California. NSAD was ranked among the top 10 undergraduate architecture schools in the western United States, according to the 2012 and 2013 DesignIntelligence reports on "America's Best Architecture & Design Schools." NSAD is accredited by the Accrediting Council for Independent Colleges and Schools (ACICS), a national accrediting agency recognized by the U.S. Department of Education and the Council for Higher Education Accreditation. NSAD's Bachelor of Architecture, Master of Architecture and Executive Master of Architecture programs are accredited by the National Architectural Accrediting Board (NAAB). NSAD also offers a pre-professional Bachelor of Arts in Architecture, along with a Bachelor of Science in Digital Media Arts, a Bachelor of Science in Construction Management, a Master of Construction Management and a Master of Science in Architecture. The school's expanding global design education offerings include a new Bachelor of Interior Design program available fall 2013–14. For more information, visit http://www.NewSchoolArch.edu.