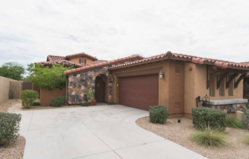 The basic purpose is to make searching Phoenix, Arizona Real Estate an easy affair. Now, people are be able to get detailed information with the click of a button
Phoenix, AZ (PRWEB) February 23, 2013
Phoenix AZ Real Estate today announced the launch of their new website http://Phoenix-AZ-RealEstate.com/. This launch now allows users to search the current MLS listings for the city of Phoenix, Arizona. Users are also be able to go through the images related to properties, research local information and home values and even map houses for sale in the city. The listings are updated on a daily basis.
The search can be initiated right from the home page by just entering the location in which the visitor is interested in along with the price range before clicking on the 'Search for Home' button. More in depth searches are available on the Custom Arizona Real Estate Search page at http://Phoenix-AZ-RealEstate.com/search with the advanced Real Estate Search functions the visitor can save custom search results for evaluation later.
The listings that appear in the search contain a lot of useful information including the type of property, number of bedrooms and bathrooms, area covered and the year of make along with the price and related images. One can also schedule a showing or get detailed information related to a particular property by just clicking on one button.
According to Chuck Nibley, "The basic purpose of us coming up with this website is to make the process of searching property in the city of Phoenix, Arizona an easy affair. Now, people would be able to get detailed information of their future home just by the click of a few buttons. This is really easy to use" . The Phoenix AZ Real Estate team has over 50 years of experience in the industry. "Buying or Selling Real Estate should be a simple and convenient process that benefits the clients above all others. Something as simple as a return phone call on a timely basis is a show of respect that everyone expects, and receives", said Chuck, of Arizona Homes N B Andrews which runs this site.
About Phoenix AZ Real Estate
Phoenix AZ Real Estate is an online platform designed to help users search for properties across the city of Phoenix, Arizona by just clicking a few buttons. Additional information can be found here - http://Phoenix-AZ-RealEstate.com