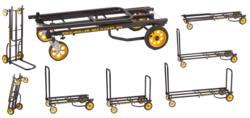 Petaluma, CA (PRWEB) February 21, 2013
Rock-n-Roller Multi-Cart introduces the new model R14, designed to transport up to 700 pounds per trip. Multi-Cart users consider their carts to be the most critical piece of equipment for transporting gear, and until now, the maximum load capacity for Rock-n-Roller Multi-Carts was 500 pounds.
The new model R14 features a variety of structural enhancements, which contribute to it's added stability and weight bearing capacity. The frame extends from 42" to 60" in length (almost 20% longer than the R8, R10 and R12 models), and the frame bed width has been increased an additional 11% to provide more stability for oversized cargo. Sturdy steel tubing has been added to the frame to support increased load stress. A shorter rear foldable side allows extremely long cargo to overhang the frame while also making the cart lighter and easier to operate as a 2-wheeler.
Two 6" x 1.50" front swivel casters with brakes and 8" x 2.0" R-Track rear no-flat tires make rolling over grass and uneven sidewalks easy, and the entire chassis sits lower to the ground for easier loading and unloading.
At 700 pounds per load, the RocknRoller R14 cart has the highest weight capacity rating in the industry, and the versatility to meet every transportation need. Rock-n-Roller carts are one of the top selling utility dollies available, and are the perfect add-on for musicians, general contractors, facility managers, technicians, videographers, event managers, photographers and more.
For more information visit http://www.rocknrollercart.com.
RocknRoller® Multi-Cart® is distributed in the U.S. by Ace Products Group.