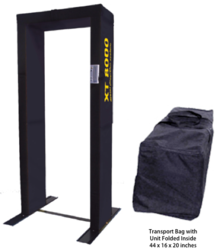 We offer the only true compact and portable security solution available.
Plymouth, Michigan (PRWEB) February 27, 2013
Security Systems International (SSI) now have the exclusive distribution rights to the XT-8000 Company Portable Metal Detection System, as announced by SSI's President, Mark Bishop. Recent untoward gun events have created renewed demand for such an economical and easy-to-use walk-thru metal detection system.
The XT-8000 sets up in less than 10 minutes without special training. The entire system fits in a carry bag for compact portability. One person can carry the XT-8000 the full unit to provide broader coverage for extra security and risk deterrence with fewer units.
The heart of the XT-8000 system utilizes quad coil detection fields. These fields represent the latest in digital microprocessors detecting metal objects when passing through the system. The stand-alone control module sits at eye level and provides easy set-up. Audible and visual alerts are given upon detection. Multilevel sensitivity settings and volume controls add to the versatility.
Sturdy but lightweight materials enhance portability. Interior Lexan panels protect the resin-sealed electronic components employed in the structural polyethylene laminates. The exterior housing construction consists of weather-resistant ballistic nylon sections easily folded into a compact but rugged 44 X 16 X 20 inch transport carrier.
The unit allows customization — the side banners can reflect the name of your school, organization, or company. For slightly more, the unit can be produced in your own colors. We also offer a portable battery pack, if use away from a power source is anticipated.
Security Systems International LLC (SSI) provides exclusive sales access to the XT-8000 Compact and Portable Metal Detection System. You can contact Mark Bishop, President, Security Systems International at (734) 404-5343.
Media Contact
Mark Bishop, President
Security Systems International LLC
8509 Old Oak Drive
Plymouth, MI 48170 USA
+1 (734) 404-5343
PortableMetalDetection.com