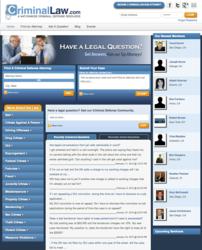 New Features Help to Convert Visitors into Clients.
United States (PRWEB) February 27, 2013
CriminalLaw.com is announcing 3 newly released features on their Geo Sites. Geo Sites are the geographically focused websites that are set up on the CriminalLaw.com domain. These mini websites like, orlando.criminallaw.com enable defense attorneys to add content and images onto a platform that is Google friendly. Each site is easy to update and is packed with features.
The key to a good Geo site is providing information that shows you to be an expert in your field. Recent upgrades to CriminalLaw.com's platform have made it much easier to share this information online. While the Geo Sites were introduced late last year, CriminalLaw.com is constantly improving them and adding features. Below is a list of the most recent additions:
1. Testimonials – This module allows attorneys to upload their testimonials into a widget that displays them on each page of the site.
2. News Feed – Attorneys can pull in an RSS feed of local or national news to provide valuable information to their visitors.
3. Case Summaries – Attorneys can now upload their case summaries to highlight their successes.
These new features have a dual purpose. Testimonials, Local News and Case Summaries show valuable information. The Testimonials and Case Summaries give a potential client an insight into the type of defense lawyer they can expect to hire. The News Feed can offer convenient information on local news, your blog or other information that you want to share.
The second purpose for adding this content is to attract the search engines. Google and Yahoo love original content. This acts as timely, relevant information that can help you rise to the top of the page. It is also the exact type of information that Google like to see. With the recent updates to their algorithm, it is becoming more important than ever to give them what they want.
Converting Visitors to Clients
These new additions will help to turn visitors into phone calls as well as helping to improve the long term ranking of the site. Attorneys that already have a lot of testimonials can plug them right into their Geo Site. Scott Campbell, a Phoenix criminal defense attorney shares several of his testimonials on phoenix.criminallaw.com.
To make a website stand out from the rest you need to give Google what they want: original, quality content. High-quality and fresh content may have never been more important." CriminalLaw.com provides a robust and stable platform that makes adding practice area pages, articles, blogs, testimonials and social media updates simple for clients.
If an individual lawyer does not have the time to refresh and add new content on a regular basis, hiring an online marketing firm is worth the investment. Stale and outdated content are not as valuable as fresh, newsworthy information. CriminalLaw.com's new tools make it easy to keep your content up to date. You can add the information yourself or send it to one of the CriminalLaw.com team members to do it for you.
Testimonials and Case Summaries are pieces of information specific to an individuals law firm. That is one of the reasons they are so important. Ask your clients for Testimonials and be proud to share your case results with people who visit your Geo Site.