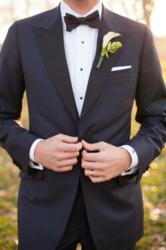 "It opens up an entire new array of color options. And since we offer over 1100 different fabrics, a couple can truly 'art direct' their wedding in ways typically unheard of before."
Catherine Conway, Director of Merchandising
Franklin, TN (PRWEB) February 21, 2013
For the 2013 wedding season, wedding celebrations are expected to be an opportunity for true expression of a bride and groom's personality.
While there is always great interest in the traditional black and white, many of today's weddings are an opportunity for the couple – not just the bride – to express their own style.
"We're seeing strong trend in the groom being involved in the decisions." said Catherine Conway, Director of Merchandising for Tom James, a custom suit retailer. "Perhaps it's because today's brides and grooms are often a bit older and able to pay for some of the wedding, or perhaps it's because today's couples are just more individualistic."
Either way, trends show a movement away from the expected and may include a blending of formal décor perhaps with an outdoor setting. Eclectic is perfectly acceptable with many couples opting to dress attendants and groomsmen in attire that can be worn again.
"We're seeing a movement toward groomsmen wearing neutral colored suits, with the groom in either the same color or in traditional black," said Conway. "It opens up an entire new array of color options. And since we offer over 1100 different fabrics, a couple can truly 'art direct' their wedding in ways typically unheard of before."
That gives the bride, said Conway, the option to match the perfect gray suit to the bridesmaid's dresses, or to find the complementary color for the setting. A pale blue-gray, for example, is perfect for a beach wedding as it looks great with the sky and the water. "Photos last, so why not have something that looks like it came from a magazine?" asked Conway.
Black and charcoal are still the preferred colors for evening weddings, but you're likely to see lighter colors, even seersucker, on a summer groom, especially in the south. The ever popular bow tie adds the perfect touch, especially when matched to the bridesmaids' colors.
"Since more grooms are getting involved in the planning," stated Conway, "The custom suit or tuxedo makes so much sense. He'd rather put the cost of a rental toward something he'll actually wear again and a custom suit fits that bill. Plus, with a rental, there are such limited color options appropriate for a wedding."
Another touch, Conway tells of is the custom label underneath the inside left breast pocket. "The label can read how you like it, meaning some of our grooms have chosen personal sayings, or even the wedding date," said Conway. "It puts a most meaningful message close to the heart."
According to Conway, if custom suits are not in the budget for the groomsmen, grooms will often elect to purchase custom shirts or ties for their groomsmen. "A monogrammed tie can be the perfect way to make the groomsmen gifts more personal."
"We know how important that special day is for everyone involved," said Conway. "We have some great looks featured on our Facebook album, 'Say Luxe to the Tux.' These are photos sent to us by our clients. It's the best way to envision the beautiful options custom affords today's couples."
Tom James has over 100 locations, internationally, with 500 clothiers and stylists who can assist every bride. Because they own the factories that fashion the clothing, Tom James controls the process every step of the way. Tom James was founded in 1966 and is proud to say that 95% of its tailored clothing is crafted in the USA.
For more information, consult http://www.tomjames.com