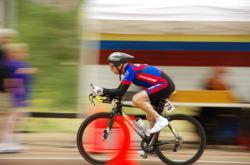 I feel like a fine wine. I keep getting better with age.
St. George, Utah (PRWEB) February 21, 2013
At the launch of the New Year, Huntsman World Senior Games athletes were given one more chance to re-live some of their favorite memories of the 2012 Games through a photo contest sponsored at http://www.seniorgames.net/contest/. Athletes were encouraged to email the Games a photo that best exemplified the annual event that takes place each year in St. George, Utah, and hosts over 10,000 athletes.
"I was quite pleased with the number and the diversity of the photos that were submitted," said, Kyle M Case, Games CEO.
The photos submitted depicted a broad range of subjects from the inspiring Opening Ceremonies to the thrill of the medal ceremonies. Case says the variety of photos reflects the various aspects of the annual event that make it so popular with the 50 and over crowd.
Leo LeCouteur of British Columbia, Canada, was the inaugural winner of the photo contest.
"I wanted to capture the motion of the cyclist so I took a number of shots. I had a 135mm lens. I ended up using a 1/30 second shutter speed to focus on the athlete and blur the background," said LeCouteur.
"The judging committee was impressed with the flow and feel of energy captured in the photo," says Case.
LeCouteur, a cyclist himself, has been riding for more than 25 years. He has participated in the Games nine times and hopes to make the journey once again this year.
"I've been riding for a long time, "said Lecouteur, "But I feel like a fine wine. I keep getting better with age."
Each year, athletes from all over the world converge on St. George, Utah to participate in the Huntsman World Senior Games. Athletes from all 50 states are represented as well as participants from more than two dozen countries.
The Huntsman World Senior Games is the world's largest annual multi-sport event for athletes 50 and over. The event offers 27 different sports and provides competitive divisions by age as well as skill level when possible. For more information on the Games visit http://www.seniorgames.net.