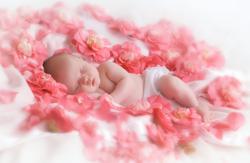 "I've been having Lori photograph my children before they were even born (pregnancy portraits). Her work is art and will be cherished by my family for generations" Laura B.
Campbell, CA (PRWEB) February 20, 2013
Have you got the most adorable, most comic or most unpredictable baby? Lori Rose of Signature Images, Inc just announced the first annual Baby Portrait Contest for Newborns and infants up to 12 months of age.
The Baby Portrait Contest will run from February 19, 2013 through April 30, 2013. Judging will be done by members of the community via online voting.
There will be three 1st place winners in three categories; they are, Most Adorable, Most Comic and Most Unpredictable. Each winner will receive a 16x20 portrait of the winning image valued at $1,075.00.
There is no session fee or purchase required to enter the contest. There is a $20.00 entry fee to help defray some of the cost in running the contest. Each entrant will receive a 3.5x5 print of the portrait they selected for entry.
For full contest rules click here. There is a limited amount of space available for sessions so interested parties should book their session as soon as possible.
Contact the studio by phone at 408 374-3714 or email lori(at)signature-images(dot)com.
Signature Images, Inc. is a portrait studio in Campbell, California. Lori Rose is a Master Photographer and Craftsman. She has been photographing children for over 30 years. Rose has lectured to other professional photographers throughout the U.S, Canada and Australia.