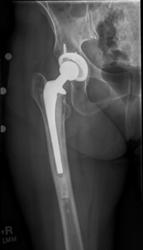 It is extremely important that patients going in for hip replacement surgery are given clear and complete information about the medical devices involved.
Newport Beach CA (PRWEB) February 20, 2013
Hip replacements are more likely to fail in women than in men, according to one of the largest studies of its kind that involved U.S. patients and was funded by the FDA and published in Journal of the American Medical Association's Internal Medicine journal. According to a Feb. 18 news report in The Associated Press, the risk of hip implants failing is 29 percent higher in women compared to men. The report also states that women are much more likely than men to require a revision surgery due to implant failure within the first three years. Importantly, the study shows that metal-on-metal hip implant failure was almost twice as high for women than in men, the report states.
The AP report states that it is not known which models of hip implants perform best in women even though women make up the majority of more than 400,000 people in the U.S. who undergo full or partial hip replacements each year. This is the first attempt at a longer-term research strategy to figure out why women have worse results when it comes to hip replacements, the article states.
According to the report, researchers looked at more than 35,000 surgeries at 46 hospitals in the Kaiser Permanente health system. The study indicated that after three years, 2.3 percent of the women and 1.9 percent of the men had undergone revision surgery due to problems including instability, infection, broken bones and loosening of the implant. The metal hip models were marketed by manufacturers as more durable than standard plastic or ceramic models, but several product recalls involving these artificial hips have led to a decrease in their use in recent years, the article states.
It is extremely important that patients going in for hip replacement surgery are given clear and complete information about the medical devices involved. "Patients should not get sucked into the marketing hype that usually surrounds these types of products. Especially when it comes to hip implants, the latest may not be the best and we have seen evidence of that through several studies over the last few years."
Patients who have had to undergo revision surgery as a result of defective medical devices, or early failure of a device have legal rights, Bisnar said. "These patients undergo tremendous pain. They incur significant surgery and rehabilitation-related medical expenses. Many are unable to work because they are unable to walk. With this latest study showing the higher percentage of failure in mostly women, doctors should discuss this potential issue with their patients at great length."
About Bisnar | Chase
Bisnar | Chase represent victims of defective products such as medical devices and prescription drugs. The firm has been featured on a number of popular media outlets including Newsweek, Fox, NBC, and ABC and is known for its passionate pursuit of results for their clients. Since 1978, Bisnar | Chase has recovered millions of dollars for victims of defective products.
For more information, please call 800-561-4887 or visit http://www.bestattorney.com for a free consultation. We are located at 1301 Dove Street #120, Newport Beach, CA 92660.
Sources: http://www.usatoday.com/story/news/nation/2013/02/18/hip-implants-women/1928967/
http://archinte.jamanetwork.com/article.aspx?articleid=1653990