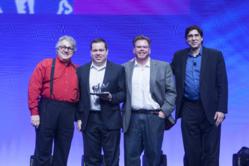 We are very happy to profile and recognize these individuals and organizations for their hard work and achievements.
- Fatima Cabral Ratcliffe, Pink Elephant CEO
Las Vegas, NV (PRWEB) February 21, 2013
Today, Pink Elephant, a global provider of IT Service Management (ITSM) education and training, honored three organizations with 2012 IT Excellence Awards at the 17th Annual International IT Service Management Conference & Exhibition, Pink13. "There are many ITSM victories that more IT professionals should hear about," said George Spalding, Executive Vice President of Pink Elephant. "Our annual conference is the perfect occasion to recognize excellence in the industry, and introduce hundreds of IT professionals to real-life ITSM success stories."
There are close to 2,000 IT professionals in attendance at this year's week and half long event at the beautiful Las Vegas Bellagio Hotel. One of the highlights each year is Pink Elephant's presentation of the IT Excellence Awards. This year the awards were presented to:
University of Alberta, winner of the 2012 Project of the Year. The Project of the Year Award recognizes an organization for demonstrating significant commitment to IT Service Management best practices with involvement of certified staff, and visible positive outcomes.
BMC Software, winner of the 2012 Innovation of the Year Award. This IT Excellence Award recognizes a product or service developed by the vendor community, which has made the greatest contribution to IT Service Management in the last calendar year.
Lonnie Shane, winner of the 2012 Practitioner of the Year Award. This IT Excellence Award recognizes an individual who has shown visible commitment to ITIL best practices, and is an industry champion for IT continuous improvement and quality principles.
"On behalf of everyone at Pink Elephant, congratulations to all the winners!" said Pink Elephant's CEO, Fatima Cabral Ratcliffe. "We are very happy to profile and recognize these individuals and organizations for their hard work and achievements".
Nominations are now being accepted for the 2013 awards, which will be presented at the 18th Annual International IT Service Management Conference and Exhibition, taking place February 17-20th, 2014 at the Bellagio Hotel in Las Vegas.
For more information about Pink Elephant's International ITSM Conference and the IT Excellence Awards, visit http://www.pinkelephant.com/Pink13.
About Pink Elephant
Each year Pink Elephant presents the world's #1 IT Service Management conference! Pink is also the leading supplier of ITSM education, consulting and online implementation tools, including PinkATLAS, PinkSCAN and PinkREADY. Through our vast array of product offerings, renowned industry expertise and our proud and rich 30 history, we are leaders in helping organizations meet IT and business goals.
For more information, visit http://www.pinkelephant.com.
###
For further information, please contact:
Lynda Byrne
Marketing Assistant
Pink Elephant
Toll Free: 1-888-273-7465, Ext. 359
E-mail: l(dot)byrne(at)pinkelephant(dot)com
ITIL® is a Registered Trade Mark of the Cabinet Office.