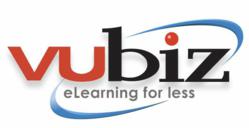 Los Angeles, CA Toronto, ON (PRWEB) February 20, 2013
The importance of compliance in banking cannot be overstated. Regulatory compliance is a chief concern for banks, now more than ever. Almost daily, a new regulatory statute is being written or coming into law. Banks that do business not only in the U.S., but globally as well, must be aware of an every-changing regulatory landscape and make sure they are compliant.The government expects all levels of bank employees to study, understand, and implement up-to-the-minute changes and additions to a wide range of banking regulations. Vubiz's online bank compliance library meets this vital need.
The Vubiz bank compliance online library provides bank staff with in-depth training on current topics bank employees need to know. The library contains over 60 bank specific compliance courses covering every major law, rule and regulation. Bestselling topics include The Bank Secrecy Act, Common Frauds, Regulation CC, Robbery Response, The Gramm-Leach Bliley Act, Fair Lending Practices, Ethics for Bankers, Compliance for Tellers, Red Flags Identity Theft and IT Security Primer. The Vubiz Banking Library is constantly updated ensuring that Compliance Officers and other employees always have access to quality, up-to-date training materials. Most courses can be completed in under an hour and all include audio, engaging learning activities, case studies, and a final assessment.
Contact Vubiz for more information