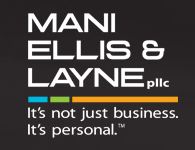 Charleston, WV (PRWEB) February 19, 2013
Mani Ellis & Layne, PLLC, a personal injury firm in Charleston, West Virginia, has relocated their offices so that they can better serve their clients. Now in the heart of downtown Charleston, the firm is much more accessible, located less than a mile away from two major freeways and the Charleston Amtrak. Perhaps most importantly, it is conveniently located a block away from the county courthouse, allowing clients to easily reach both locations. The attorneys at Mani Ellis & Layne, PLLC have already been dedicated to providing clients with exceptional legal services for the last three decades; the new location only enhances their ability to do so.
The personal injury lawyers at this firm make it their goal to take great care with each and every client, because they know the difficulty that the client is facing. To make sure that the client is fairly treated, their legal team has committed to fighting for the maximum compensation possible for each respective case. If the case does not produce results in the settlement period, then their lawyers pursue litigation to make sure that they do everything possible to protect their clients' rights.
The firm is a member of the Million Dollar Advocates Forum®, an association of prestigious trial lawyers who have won million and multi-million dollar settlements and verdicts. The membership is limited to less than 1% of U.S. lawyers. To be accepted, the lawyers must be certified and referred by their national network of colleagues. Mani Ellis & Layne, PLLC have won multi-million dollar settlements as well, so they are also included in the Multi-Million Dollar Advocates Forum®, a sub-group of the Million Dollar Advocates Forum®. In addition, Attorney John Mani has been given an AV Preeminent ® Rating of 4.6 by Martindale-Hubbell®. This rating explores a lawyer's legal knowledge, analytical capabilities, judgment, communication ability and legal experience. Five is the highest number that a lawyer can be rated in each of these areas.
In their 35 years of practice, Mani Ellis & Layne, PLLC have successfully recovered settlements for victims of motor vehicle accidents, coal mining incidents, medical malpractice, nursing home abuse, catastrophic injuries, social security disability, wrongful death, and many others. They help their clients navigate through the complex laws of West Virginia, providing effective strategies and knowledgeable advice. For more information or to contact their firm, visit their website. Mani Ellis & Layne, PLLC provide a free case evaluation for all who are interested in getting their claimed reviewed by one of their lawyers.