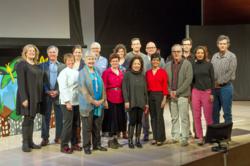 The average American family spends $2,000 on food that it doesn't eat and throws out 25lbs of food per person every month, Peter Lehner, DRNC
New York, NY (PRWEB) February 21, 2013
TEDxManhattan "Changing the Way We Eat" was held on February 16, 2013, in New York City and webcast live from The TimesCenter for global viewing. The independently organized event gathered 16 of the industry's leading experts to explore the state of America's food system and innovations toward sustainability in eating and farming. Collectively, the acclaimed panel of speakers informed, shared ideas and raised awareness about food access and food system change.
Organized by sustainable food expert Diane Hatz, over 70 viewing parties were held across the country, with over 12,000 views during the three sessions of the webcast. To watch highlights of the event visit: http://youtu.be/zzxVYrl9TUg.
The goal of the event was to help break the food movement out of its "bubble" and introduce the TED/TEDx audience and viewers across the country to the innovative work being done in this field. Speakers included Gary Hirshberg, Chairman of Stonyfield Farm, David McInerney; Co-Founder of FreshDirect; Anna Lappe of Small Planet Institute; White House Pastry Chef Bill Yosses; and Lindsey Lusher Shute of the rapidly growing National Young Farmers' Coalition, among many others, who joined in the discussion about shifting the United States food system to one that is healthy and accessible to all.
Below are ten actionable ways Americans can change the way they eat and contribute to a more sustainable food system, as discussed at TEDxManhattan:
1. Read the labels. "Why do we need to know what is in our food? Chemical use with GMO crops is escalating. This is a fight about whether our government is of for and by the people – or – of for and by a handful of chemical companies. Learn more and join us and JustLabelIt.org." Gary Hirshberg, Stonyfield Farm
2. Know where your food comes from. "Pay attention to where your food comes from and dismiss the illusion that our food system is magical. Bring an awareness to your meals that others are eating with you — invisible and unknown by you. Ask yourself as you approach every meal: Who grew it? How did they grow it? Whose hands prepared it? Under what conditions did they grow or process this food?" LaDonna Redmond, Institute For Agriculture and Trade Policy
3. If your food does not taste good bring it back! "The next time you go to the supermarket and bring home fruit that you find disappointing because it doesn't taste good – bring it back! If enough people were to bring food back and say that they do not like the way it tastes, supermarkets and retailers would step up their standards. We the retailers of this country need to stand up and accept responsibility. This isn't the farmer's fault – we are the ones who are pushing the farmers to take the shortcuts, such as picking fruit before it is ripe because it is easier for us to handle." David McInerney, FreshDirect
4. Journey to the back of your fridge! "An NRDC study uncovered that 40% of food grown in this country is not eaten, half of our food that is grown is wasted. There is waste at the farm, in transit, at supermarkets, in restaurants and at home. The average American family spends $2,000 on food that it doesn't eat and throws out 25lbs of food per person every month. All 50 million Americans that are food insecure can be fed if we reduce our food waste by a third." Peter Lehner, NRDC
5. Find replacements for refined sugars. "If pastry chefs are worried about the amount of sugar and fat we are consuming, then we really have a problem. Recreate flavors and find replacements for refined sugars, such as honey which keeps your cakes moist longer and has less fructose. How can we change those flavors that we grew up with? Our national leaders have recognized that we must engage young people in this dialogue and we should too. " Bill Yosses, The White House Pastry Chef
6. Fix school lunches. "The Center for Disease Control says this same generation born in the year 2000 will be the first in our country's history to die at a younger age then their parents because of what we feed them. Who does want fresh fruit and vegetables, whole grains, healthy protein for their children, so why can't we have that in our schools. Our kids are the most thing for our health, our life and the future of our country." Chef Ann Cooper, Food Family Farming Foundation
7. Retire Ronald! "The power of the junk food industry to reach our kids has life and death consequences. The food industry spends 2 billion dollars per year to hook kids and tens on high-fat, high-salt, high-cholesterol foods. What can you do it about it? Get passionate about food marketing messages. It is up to parents to raise healthy kids and get involved in organizations such as foodmythbusters.org." Anne Lappe, Small Planet Institute
8. Support farmers. "Your food choices make or break local farms; farmers are quite literally depending on you to keep their operations in business. Joining a Community Supported Agriculture (CSA), where you agree to buy produce from one farmer for a whole season, is the best way to support a local farm. To find a local CSA, visit justfood.org." Lindsey Lusher Shute, National Young Farmers' Coalition
9. Seeds are sexy. "In an industrial agricultural model, we're reaping what we've sown. Cheap food at a high cost. We must pay attention to the loss of biodiversity in food and consolidation of seeds. Seeds are the buried foundations of food, but they are becoming increasingly engineered, consolidated and industrialized. What can you do as a consumer? Make a donation to help provide sustainability and visit seed-stories.com to learn more." Simran Sethi, Journalist, Educator and Strategist
10. Be grateful for the food that we have. "The watchword for healthy is low-fat. Fat is one of the three nutrients that gives us energy and has important metabolic functions that we cannot live without. Good food should be local, seasonal and not genetically modified. Good food should be in harmony with tradition. Good food should be balanced and delicious. What you eat is just as important as what you don't eat. Be grateful for the food that we have." Annemarie Colbin, Ph.D., Natural Gourmet Institute for Health and Culinary Arts
Visit tedxmanhattan.org to learn more about the participating speakers.
About TEDx
In the spirit of ideas worth spreading, TED has created a program called TEDx. TEDx is a program of local, self-organized events that bring people together to share a TED-like experience. Our event is called TEDxManhattan "Changing the Way We Eat", where x = independently organized TED event. At our TEDxManhattan event, TEDTalks video and live speakers will combine to spark deep discussion and connection in a small group. The TED Conference provides general guidance for the TEDx program, but individual TEDx events, including ours, are self-organized. (http://www.tedxmanhattan.org).
About TED
TED is a nonprofit organization devoted to Ideas Worth Spreading. Started as a four-day conference in California 25 years ago, TED has grown to support those world-changing ideas with multiple initiatives. The annual TED Conference invites the world's leading thinkers and doers to speak for 18 minutes. Their talks are then made available, free, at TED.com. TED speakers have included Bill Gates, Al Gore, Jane Goodall, Elizabeth Gilbert, Sir Richard Branson, Nandan Nilekani, Philippe Starck, Ngozi Okonjo-Iweala, Isabel Allende and former UK Prime Minister Gordon Brown. The annual TED Conference takes place each spring in Long Beach, California, along with the TEDActive simulcast in Palm Springs; the annual TEDGlobal conference is held each summer in Edinburgh, Scotland.
TED's media initiatives include TED.com, where new TEDTalks are posted daily, the recently launched TED-Ed platform for students and educators, the Open Translation Project, which provides subtitles and interactive transcripts as well as the ability for any TEDTalk to be translated by volunteers worldwide, and TEDBooks, short e-books by speakers that elaborate on a single idea originally presented on TED's stage. TED has established the annual TED Prize, where exceptional individuals with a wish to change the world are given the opportunity to put their wishes into action; TEDx, which offers individuals or groups a way to host local, self-organized events around the world, and the TED Fellows program, helping world-changing innovators from around the globe to become part of the TED community and, with its help, amplify the impact of their remarkable projects and activities. Follow TED on Twitter or on Facebook.