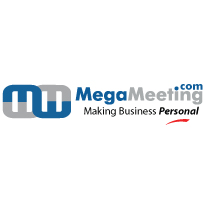 MegaMeeting.com works hard to take the stress out of traditional business meetings and online events. The new PayPal integration makes using MegaMeeting.com even more convenient for our clients and allows them to explore different ways to generate income
Los Angeles, CA (PRWEB) February 20, 2013
Internet MegaMeeting, LLC, more commonly known as MegaMeeting.com, announced today the release of an update to their highly robust web-based video conferencing platform which includes PayPal integration.
The integration provides MegaMeeting.com clients with a method of accepting secure online payments by connecting any Advanced, Pro or Standard PayPal merchant account to their existing MegaMeeting.com video conferencing account. "We are extremely excited to roll out this feature. It provides our clients with a new way to monetize their accounts and gives them a platform to produce and charge for fee-based webinars or online meetings." stated Tawny Labrum, Marketing Director for MegaMeeting.com
The PayPal payment gateway is built-into MegaMeeting.com's web-based platform. It requires a one-time setup which must be administered by an account admin. Once the PayPal merchant account information has been entered and stored in the system hosts can then choose the option to require payment from attendees when setting up each individual meeting.
The PayPal integration requires the use of MegaMeeting.com's registration system, one of the many features available through their Business Bundle Package. As attendees register for upcoming online events or webinars they will be required to enter a payment. Whether the attendee is able to pay through PayPal's Express Checkout method or be redirected to the PayPal website depends on the type of PayPal merchant account MegaMeeting.com clients have.
"MegaMeeting.com works hard to take the stress out of traditional business meetings and online events. The new PayPal integration makes using MegaMeeting.com even more convenient for our clients and allows them to explore different ways to generate income and expand their business", Labrum went on to say.
About MegaMeeting.com (http://www.MegaMeeting.com)
Founded in 2003, MegaMeeting.com is a leading provider of 100% browser-based web & video conferencing solutions complete with real time audio and video capabilities. MegaMeeting.com is a completely browser-based solution that works on all major operating systems – Windows, Mac & Linux as well as iPhones, iPads and Android enabled tablets or mobile devices. MegaMeeting.com provides universal access without the need to download, install or configure software. Their web conferencing products and services include powerful collaboration tools that accommodate robust video & web conferences, including advanced features such as desktop/application sharing, i.e. Word and Excel documents and PowerPoint presentations without the need to upload any files. MegaMeeting.com is ideal for multi-location web based meetings, virtual classrooms, employee trainings, product demonstrations, company orientation, customer support, product launches and much more.
For more information please visit http://www.megameeting.com or call (818) 783-4311.