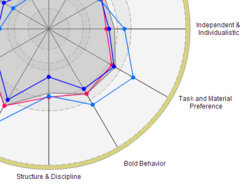 This is the first step that companies take in understanding how organizational success is linked to the dynamics & performance of their teams.
Addison, TX (PRWEB) February 26, 2013
The new Shadowmatch Behavioral Team Analysis Module provides extensive value and insight into the balance and management of corporate teams based upon team members' behavioral strengths and habits. Shadowmatch is available exclusively in the U.S. by Shadowmatch USA. This feature not only allows leaders to analyze their team's key behaviors, it provides an actionable, goal-oriented view to increase team effectiveness and productivity.
"Behavioral Team Building is a particularly valuable part of the overall solution we offer," says Adrian Wood, VP of Business Development for Shadowmatch USA. "It's often the first step that companies take in understanding how their organizational success is linked to the dynamics and performance of their teams. Our existing Team Building workshop has been very well received, but this new capability takes it to a whole new level."
The new Behavioral Team Analysis Module comprises two new important views of the team:

Team analysis map: Represents, in a single view, the individuals and team along 12 dimensions of behavior (i.e. Collaboration/Independence or People/Task oriented habits)
Team groups map: Shows the sub-groups that form within the team and which individuals fall into each category of sub-group (i.e. Problem Solvers & Relationship Builders)
The Team Analysis Module is an important addition to the facilitated team building event, but it also now offers several new reports and outputs for the manager and team to make the ongoing management of the team more productive.
"Our clients know that team building needs to be more than just a paintball outing or personality review," says Wood, "but I would now challenge organizations to find any other process that provides as much value and insight in a manageable way."
About Shadowmatch USA
Shadowmatch USA, based in Dallas, is the exclusive provider and administrator of Shadowmatch in the U.S.A. The Shadowmatch behavioral benchmarking solution identifies and predicts specific employee habits and behaviors responsible for team's success. Armed with these powerful insights, leaders can better build, manage, develop and deploy their teams and individual employees. Follow our news on Twitter @ShadowmatchUSA or like us on Facebook.
For more information:
Contact: info(at)ShadowmatchUSA(dot)com
Phone: 972-588-3365
URL: http://www.ShadowmatchUSA.com