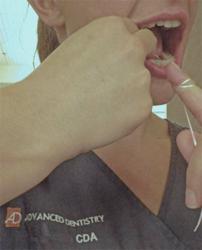 Prevent Bad Breath and Enjoy Improved Health Also!
Middletown, NJ (PRWEB) February 20, 2013
Feeling self-conscious about bad breath? Then read on. Halitosis doesn't have to stop anyone from being their most confident self. There are many fast and effective options available, and the first step on the path to fresh breath is to arm oneself with knowledge. If anyone is at their wit's end after trying over-the-counter remedies to no avail, then read on to see 4 simple tips for overcoming halitosis, and call Dr Korwin to start reclaiming a smile.
1. Treat the root of the issue: Gum Disease.
-Gum disease, or Gingivitis, is one of the major underlying causes of bad breath. Gingivitis occurs when bacteria infect the structures that surround the base of the tooth, including the gums and ligaments. When bacteria find a safe haven in gum tissue, they are allowed to propagate and release foul smelling odors.
Dr. Korwin is specially trained in the prevention and treatment of gum disease, and can provide affordable and convenient options for taking back control of oral hygiene.
2. Rejuvenate dry mouth.
Dry mouth is another major cause of bad breath. When levels of saliva run low, bacteria can flourish. Some causes of dry mouth include systemic diseases like diabetes, hormonal fluctuations, or can be caused through side effects of many medications. Dr. Korwin provides specialized mouth rinses such as Natural Dentist, an alcohol-free way to rid the mouth of odor causing bacteria, as well as fluoride gels, oral lubricants, and other techniques for getting the most out of a daily hygiene routine.
3. Focus on the tongue.
Bacteria can flourish on the tongue itself, and it's easy to forget the importance of cleaning the tongue along with the rest of your mouth. Many of the ineffective drug store remedies only mask the odors caused by improper tongue hygiene. In order to remove the bacteria that cause the odor, a tongue scraper can be used along with normal dental hygiene routines. For recurrent sinus infections, the mucous from the sinuses can also drip into the back of the mouth, exacerbating these issues. Treatment of underlying nose and sinus problems can help ameliorate halitosis from this source.
4. Control reflux.
GERD, or Gastro esophageal reflux disease, causes damage to the esophagus due to the escape of stomach acid. This is a major cause of heartburn, but can also be the cause of bad breath and tooth erosion. The stomach acid can also lead to the release of foul smelling gases that escape through the mouth. GERD causes some tell-tale signs, and Dr. Korwin can help diagnose and explore any treatment options.
Everyone deserves to be confident. Don't let bad breath get in the way, come in and see Dr. Korwin today. For more information, please visit drkorwin.com or call (732) 219-8900.
Practicing in the Red Bank/ Middletown/ Monmouth County New Jersey region for over 31 years, Dr. Robert Korwin holds the distinction of being one of less than one percent of all general dentists with a Master of General Dentistry as well as a Master of the International College of Oral Implantologists, and is also one of only two highest honors graduates of the two year Progressive Orthodontic Seminars. He has held positions in state, and local organizations involved in dental care as well as having an appointment to two hospital dental training institutions. He has been honored by SLD, and by Straine Consulting as one of Americas Top Dentists, he has been designated as one of the best of Red Bank's dentists. He is a board member of the oldest dental sedation training organization in the US, as well as a professional board member appointed by Governor Christie of New Jersey. Dr. Korwin provides excellent dental care with cosmetics, orthodontics, implants, periodontal surgery, veneers, whitening and sedation.
Robert Korwin DMD MICOI MAGD, Advanced Dentistry with a Gentle Touch
562 State Route 35 Union Square Office Commons
Red Bank, NJ 07701 732-219-8900 drkorwin.com
###