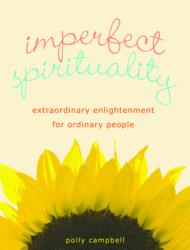 A clear and affable spiritual guide for the rest of us.
—Publishers Weekly
(PRWEB) February 20, 2013
"This is a culture of perfection seekers," Polly Campbell says in Imperfect Spirituality. "Collectively everyone celebrates youth, money, beauty, thinness, and ambition."
That's not to say to give up on self-improvement altogether. There's nothing wrong with a little hair dye or trying a technique to help one live well. Most people do want to look better and feel better in their skin. Everyone wants to be a better person. Personal development is valid and worthwhile when it comes from a place of curiosity and passion, when it comes from a desire to grow and to create meaning-filled lives. But too often people want to sweep away their flaws in order to measure up to some Hollywood ideal.
Everyone invests time and puts attention on fixing, changing, avoiding, denying, and hiding imperfections to match some contrived cultural expectation, rather than living from what's right and true for them. Let's do it differently. It's time to shift the focus and energy from what's wrong with us to what is right within us."
Join Polly Campbell at Barnes and Noble in Eugene on February 28th at 7pm and listen for her on these radio shows:
2/20/13: Soul Journeys Radio - 5-7pm PST
3/20/13: Walking with Spirit Radio Show - 6-7pm PST
4/1/13: Mind Over Matters Radio Show - 1-2pm PST
6/15/13: Exploring Unexplained Phenomena Radio - 8:50-10:30am PST