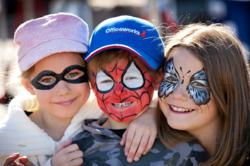 Dear Shelley, thank you so much for the beautiful faces you painted. The kids loved the designs and the parents were thrilled with the results. You were fantastic with the little ones and really made the day a huge success.
Cheryl-Lynn
(PRWEB) February 20, 2013
Dutch Cargo Bikes hosts its annual bike ride on March 9th from 1 – 3 pm. Parents can take their children for a ride around Abbotsford Convent and We Love Face Painting of Melbourne will be on hand to provide face painting to children and parents.
"It will be a lovely day to come out and get some exercise, many feel that face painting is a perfect accompaniment for an afternoon of family friendly activities," said Shelley at We Love Face Painting.
We Love Face Painting is the creation of Shelley Bledsoe, a professional makeup artist. Her philosophy of face painting is simple: If you can imagine it, we will paint it for you.
"I have gotten many requests for all sorts of face painting over the years in addition to some long time favorite face concepts that We Love Face Painting has. There is something for everyone," Bledsoe said.
We Love Face Painting is available for community events, parties and any time there is a need for a special fundraiser or activity. Shelley and her team are glad to work with you on your particular needs for face painting.
ABOUT
We Love Face Painting! is based in Melbourne, Victoria, established by Shelley Bledsoe in 2007. With a background in Makeup Artistry, face painting was a natural progression. Our team thoroughly loves what we do and pride ourselves on our reliability, and quality work. Our face painters offer designs ranging from popular full face to cheek art.