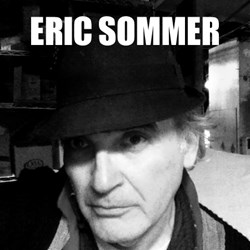 An explosive, jaw-dropping, full-throttle style plus great songs... I have been looking for this for years...
David Poiles
Denver Music Page
Savannah, GA (PRWEB) February 22, 2013
Eric Sommer has been touring for years in small rooms and shoe-box clubs, scraping by under the radar, driven only by the power of the music and the belief that he is making a difference.
And it's paying off.
Relentless touring, lugging amps, moving gear, packing and unpacking 7-8 guitars twice a night across the US and Europe have produced a collection of songs, stories and soundscape compositions by a guitar player who's time, whose moment, it seems, has arrived.
Mr. Sommer is no stranger to Savannah and has played many of the city's venues - The Sentient Bean, The Wormhole, Huc-a-poos and The Congress Street Social Club. His schedule brings him east from Little Rock and most recently from Bloomington, Indiana and Morgantown, West Virginia.
Eric Sommer started out in Boston and was a founding member of the cult power-pop punk band The Atomics who paired with The Dead Kennedys, Gang of Four and Bugsy Low Low on numerous tours. European tours and a residence in Aarhus, Denmark placed Eric in the German and Holland northern Europe rock circuit five nights a week for 2 years. He rehearsed his shows in the sauna rooms of the Aarhus School of Architecture in Aarhus, Denmark.
Relentless tour schedules have kept Eric Sommer in front of many shows, tours and growing international fan base with important artists: Nick Lowe bands Wreckless Eric and Bram Tschikovsky as well as David Bromberg, Jon Dee Graham, John Mayall, Dr. John, Jerry Douglas, Sara Watkins of Nickel Creek, Little Feat, Andy McKee, John Hammond and many, many others. Eric currently tours 270-280 days of the year and has been living on the road for the past 7 years. His full bio can be viewed online on the Eric Sommer website
Rainy Day Karma was recorded in Pittsburgh at 20 Cedar Studios and features Eric Sommer on guitars, harmonicas and vocals, Dave the K on all things bass and percussion by Matt Vaughan; vocals were mastered in Nashville by Jeff Silverman of Pallette Productions. Eric Sommer is represented by Clyde is Thinking, and PR programs are managed thru MTGNY.
The record is upbeat and catchy, masking it's darker content:
Europe, Europe - is an anthem that laments the coming collapse of the EU, and how Europe has so fully adopted and integrated into American Culture with little foundation.
Red Queen – is a stark look at copycat suicides, especially high among teenagers who see no jobs, few educational opportunities and no path to a legitimate life as reasons to gamble and work the drug trade.
Cover My Soul in Gasoline – is a brave look at the grey urban landscape where hopelessness and despair are the shared experience… written in the beer cooler of the Bowery Poetry Club on 10th and 3rd Avenue, now closed and abandoned.
Eric will be performing these songs and many others in a 3-4hr show, filled with open tuning soundscapes, slide guitar swamp rock, sparse acoustic ballads and power-pop with audio overdrive and feedback manipulations.
The 7 reasons? Eric Sommer and #1. 1969 Fender Telecaster #2. Checkerboard Trinity River in Open E tuning. #3. Checkerboard Trinity River in Open E tuning based in Ab #4. Jay Tircer Jay Jr. Sea Foam Green #5. Jay Tircer Jay Jr. Black #6. Taylor 915 Cutaway, roughed a bit by the road #7. Taylor 814, Fishman Matrix II...
-----------------------------------------------------------------------------------------------------------------------------
For Music Samples and additional schedules please visit CDBaby or Eric Sommer online or contact him at eric(at)ericsommer(dot)com or call 202-255-1995. Additionally, you'll find Eric Sommer on Facebook, too, and samples are available on SoundCloud.
Eric Sommer is represented by Clyde is Thinking, and PR programs are managed thru MTGNY; Clyde is Thinking is a small boutique management agency located in London with offices around the United States.