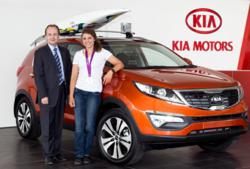 (PRWEB) February 20, 2013
Jess shot to prominence during the 2012 London Olympics, when as a teenager, she made the finals in the women's K1 white water kayak event.
The list of finalists included current world champions, former world champions and multiple Olympic medallists. But Jess, on Olympic debut, set a blistering time which stood on top of the leader board until the third last competitor relegated her to an Olympic silver medal.
"I have won a couple of junior world championships and several sporting awards but this was without a doubt a career highlight," Jess said.
"The next four years are going to be busy. I have a journalism degree to finish, a number of national title events and World Championships to attend - all in the lead up to the 2016 Olympics in Rio.
"But none of this would be possible without the valuable support I receive from my sponsors.
"To be included as a Kia Ambassador means so much to me. They are producing some really exciting vehicles and I am pleased to say that my bright orange Sportage is a prime example. And yes, I had roof racks fitted for the kayak."
Kia Motors Australia Chief Operating Officer, Tony Barlow, said the organisation is extremely proud of Jess and impressed by her dedication to training while still focusing on studies and a career.
"We believe Jess epitomises the true Sportage user - young and sporty with a passion for the outdoors," Mr Barlow said. "We are also impressed by how, at the age of 18, she communicates with her fans, friends and corporate supporters. Penrith City Council named her Citizen of the Year this Australia Day, so we're not the only ones impressed by her."
Jess's new Kia Sportage is a range-topping Platinum petrol model with a long list of creature comforts. Her Techno Orange AWD comes standard with all of the safety features including front, side and curtain airbags, ABS, stability control, downhill brake control and hill start assist.
Reversing is made safe and simple by reverse sensors and a reversing camera integrated into the satellite navigation screen.
The interior is maintained by fully automated, dual-zone climate control air conditioning, while Bluetooth and a 6-speaker surround sound system with external amp and sub-woofer makes those early morning trips to the Penrith White Water Stadium more bearable.
Jess's next event is the Australian Open from February 22 to 24 on home territory at the Penrith course.
Confidence is high after a double gold performance at the Oceania Championships on the mighty Mangahao River in New Zealand during the first weekend of February where she won both the K1 (kayak) and C1 (canoe) events.