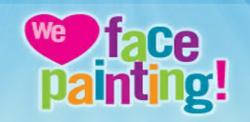 Dear Shelley thank you so much for the beautiful faces you painted. The kids loved the designs and the parents were thrilled with the results. You were fantastic with the little ones and really made the day a huge success.
Cheryl-Lynn
Melbourne, Victoria (PRWEB) February 28, 2013
Children love face painting and the We Love Face Painting team will be on hand at the Annual Greek Festival in Melbourne on March 16th and 17th 2013.
"We are glad to be a part of the Melbourne community and the opportunity to be a part of an event like this is just another way we like to say how much we appreciate our customers," said Shelley Bledsoe of We Love Face Painting.
The team will be on hand for face painting these two days.
Shelley will be at the Bank of Cyprus painting faces from 11 am to 7 pm.
Ariel and Justine will be Fronditha Care from 12 pm to 8 pm.
"If you can imagine it, we can create it for you," Bledsoe said of her and the team's face and body painting skills.
We Love Face Painting is available for any event: school fundraisers, children's birthday parties, social events, church functions and any time that some joy is needed to liven things up.
The Greek Festival is held each year in the Central Business District of Melbourne, Australia. Since 1897, the Greek Festival is one of Australia's largest and oldest ethnic festivals.
ABOUT
We Love Face Painting! is based in Melbourne, Victoria. Established by Shelley Bledsoe in 2007. With a background in Makeup Artistry, face painting was a natural progression. Our team thoroughly loves what we do and pride ourselves on our reliability, and quality work. Our face painting designs range from popular full face to cheek art.