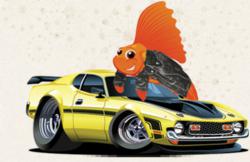 Consumer credit reaches into so many areas of life, including purchasing a house, renting an apartment, buying a car, and in many states even getting a job.
(PRWEB) February 21, 2013
RoadFish.com men's lifestyle and finance magazine today issued their support of the preliminary approval which the Colorada Senate granted Senate Bill 18 last Monday, and hopes that a final vote on the bill will read the same way. RoadFish.com feels that this bill could be a "game changer" in terms of acting as a catalyst for more states to follow suit, and supports the fact that job applicants wouldn't have to worry about their previous financial mishaps preventing them from employment.
In a recent Colorado Business Journal article, Ed Sealover reports that Colorado Senate Bill 18 is sponsored by Democratic Senator Jesse Ulibarri for the purpose of limiting the power that employers have over checking the credit of potential employers and making hiring decisions based on their credit history. SB 18 would however allow businesses to check the credit of those applicants whose positions would require them to work with the company's finances. Senator Ulibarri stated that he feels this bill is necessary because "too many people who have lost jobs during the recession, or run into issues with health problems or divorce, have suffered credit problems making it that much harder for them to get jobs again."
RoadFish.com offered up their support for SB 18, and believes that if the bill passes it could be influential on other states who don't currently have such statutes in place. RoadFish.com's Senior staff writer is quoted as saying, "I think that this bill is a pretty big deal. Consumer credit reaches into so many areas of life, including purchasing a house, renting an apartment, buying a car, and in many states even getting a job. This would give consumers one less thing to worry about if their credit is not quite up to par. And personally, I don't think that somebody should be judged for their past financial transgressions—especially if a job position has nothing to do with finance. How does looking at somebody's credit tell you whether they're capable for an opening, unless that opening is dealing specifically with money or finances? I'm behind this bill 100%."
The 2012 version of the Ulibarri-backed bill was a bit different. Ulibarri changed several things, namely he expanded upon the types of positions for which companies were allowed to perform a credit check in the interview process. He also took away the right of any wronged consumer to sue an employer for an improper use of a credit check, though he did replace their ability to sue with a civil process through the state.
RoadFish.com did make it clear that although they support SB 18, they still believe that consumers should make every effort to work on making sure their credit report is accurate and should attempt to perk up their credit score to be ready for the day when they will need it. RoadFish.com's Senior staff writer is quoted as saying, "To be clear, if this bill passes, I do not think that's an excuse for consumers to breath a sigh of relief and then forget about their credit score. Working on one's score, and on actively righting any wrongs on a report, should be an ongoing thing. Just because a consumer doesn't need to worry about having their credit checked at their next interview doesn't mean they're set. You still need to be checking your report and score every year—and that part couldn't be easier, you can get a free credit score once per year for each of the three credit bureaus—and then actively arranging your budget, lifestyle, and financial habits to get that thing looking pretty."
According to the above-mentioned Colorado Business Journal article, the Colorado Senate gave preliminary approval to Senate Bill 18 on Monday, February 11th and are expected to reach a final vote sometime in the near future.
About RoadFish.com:
RoadFish.com is a trendy and current online men's magazine that dishes out lifestyle and financial advice for gentlemen in their 30's and 40's. The magazine seeks to reach men who have already achieved a moderate level of success in life, and are constantly on the search for their next endeavor. RoadFish.com dishes about topics such as hot chicks, mens fashion, dating and restaurant reviews. The publication also regularly writes about personal finance topics, such as the key thing to do to work on a credit score. RoadFish.com is owned and operated by Purpose, Inc.