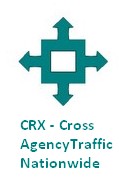 "Ultimately, the goal is for independent agencies to compete as a national network against major brands."
(PRWEB) February 19, 2013
The software for the national network of independent car rental agencies is provided by Car Rental Express.com - CRX. The initial capability was launched in late 2012, but it was recently enhanced in 2013 to include all the reporting necessary for agencies who source traffic to see how their referrals perform. Likewise agencies receiving traffic are now able to track the source of customer referrals.
With these improvements, communication among agencies is expected to increase, so that the overall traffic referral, or CRX Cross Agency Traffic, will also increase. Customers all across North America and Mexico will benefit from this entirely new car rental source.
Suddenly, customers will be able to find cheap and reliable car rentals from CRX independent operators, who are rarely found at traditional comparison sites like Expedia, Orbitz, Priceline or Hotwire.
CarRentalExpress.com (CRX) provides thousands of impartial consumer based Renter Rated reviews, including comments, for more than 200 car rental agencies. Reviews and comments are submitted by real people who have completed rentals through our site. CRX also helps find some of the cheapest car rentals in North America, lower than major brands. Reviews allow consumers to assess costs and service to choose the best car rental deal.