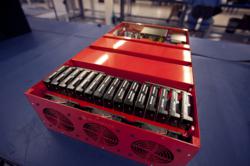 San Mateo, CA (PRWEB) February 20, 2013
Backblaze, a leading online backup provider, today announced and published the design of its third generation Storage Pod, a massive data storage server. The company originally open sourced the design in 2009, shaking up the storage community that was paying over 10 times as much for similar amounts of storage. The Backblaze Storage Pod 3.0 increases storage capacity to 180 Terabytes, adds anti-vibration drive bay assemblies, allows for the inclusion of multiple boot-drives including SSD drives, makes the chassis compatible with a wider variety of consumer drives, upgrades the motherboard and CPU and reduces time needed to install and replace any of the 45 drives. Once again, Backblaze is making the design openly available to anyone who wishes to build their own Storage Pod.
Click to Tweet: 180 TB of Good Vibrations – @Backblaze announces Storage Pod 3.0 | http://bit.ly/backblazepod3
Backblaze Storage Pods were born out of the necessity for a cost-effective way to run the company's online backup service. In order to fulfill the mission of providing Mac and PC users with unlimited data backup for $5/month/computer the company disrupted the storage industry with their Storage Pod design. Today Backblaze utilizes its Storage Pods to efficiently manage nearly 50 Petabytes of storage.
The Backblaze Storage Pod design has also proven to be popular with many organizations requiring economic data storage. "We are using the Backblaze storage pod design to add high volume storage for doing advanced phenomic analysis," stated Wm Kent Kovac, Research Assistant, Plant Biology and Plat Research Laboratory, Michigan State University, "and with a few modifications we are getting fantastic throughput on the pods to compliment the great storage capacity." Brandon Kruse, CEO of EdQuipped.com adds, "Our company currently stores and analyzes millions of student test scores to help build a tailored learning experience. Our Backblaze inspired Storage Pod has enabled us to do this in a cost effective way." Because the design is freely available, organizations such as Rensselaer Polytechnic Institute, the NASA Jet Propulsion Laboratory and Heritage Auctions were able to have their own Backblaze inspired Storage Pods to meet their diverse and demanding storage needs.
"We designed the original Storage Pod to make it possible to provide our unlimited online backup service for just $5/month. When we open sourced the Storage Pod design, we were surprised by how many people needed inexpensive, big data storage," said Gleb Budman, CEO, of Backblaze. "With the help of the community, we're continuing to innovate the pod design and are excited to release this new version that allows an ever growing amount of data to be stored inexpensively."
Organizations interested in buying a Backblaze-inspired Storage Pod can enlist the services of Protocase (http://www.protocase.com). Doug Milburn, VP of Sales and Marketing at Protocase stated, "We've made Storage Pods inspired by the Backblaze design for hundreds of customers, including universities, government, law enforcement, as well as many innovative companies, both large and small. What they have in common is the need for a simple and cost effective way to deal with huge amounts of data." Protocase also offers services as needed to design and build Storage Pods to meet a given customer's requirements.
For more details on new features, build instructions, parts required, costs, and lessons learned for Storage Pod 3.0, please visit the Backblaze Storage Pod 3.0 blog post. Press inquiries can be directed to press at Backblaze dot com.
About Backblaze
Founded by a team of serial entrepreneurs with security, scalability and usability backgrounds, located in the heart of Silicon Valley, Backblaze's mission is to ensure that all computer data is backed up. Backblaze was selected as a winner of the AlwaysOn Global Top 250 private companies for game-changing technology and market value. Visit http://www.backblaze.com for more information or to backup your own computer.