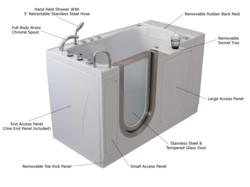 Faster load times will make it even easier to purchase walk bathtubs and ADA shower systems.
Phoenix, AZ (PRWEB) February 20, 2013
Aging Safely announces its new shopping cart website now has enhanced SSL security and faster loading times to protect consumers and make ordering more efficient. The new website gives customers the opportunity to order walk bathtubs from the comfort of their homes. Customers can compare models and brands whether they are seeking an ADA shower or a walk in tub for bathing or hydrotherapy.
Although all shoppers will like the faster downloading, customers who want a hydrotherapy walk bathtub will enjoy getting quick access to many massage bathing options. Since there are two types of water jets, customers will want to take the time to browse bathtubs for senior citizens and learn about the differences between water and air jets, so they make a selection that provides a comfortable, therapeutic massage for their bodies.
The faster loading times will also be helpful to customers who need a particular bathing feature and want to view all tubs or showers with that option. Viewing multiple photographs of bathtubs for senior citizens will be effortless.
Aging Safely's CEO, Zach Wennstedt, said, "Many customers are seniors and they may want a user-friendly shopping cart system that downloads fast. The faster loading times are convenient and minimize frustration because customers can place their orders for bathtubs for senior citizens quickly. Commercial clients and customers purchasing on behalf of a relative will also appreciate the faster loading times, and the new SSL security because it helps ensure that personal information is secure and confidential when placing an order for walk bathtubs and ADA shower stalls."
The shopping and ordering process is straightforward, so customers can choose an elderly bathtub, walk in tub or walk in shower with ease. Shoppers can select from an array of ADA shower stalls, or they can choose a tub with or without hydrotherapy jets. Since shoppers will be viewing many photographs of walk bathtubs, the faster download times speed up the shopping process considerably.
Upon making a walk in tub or ADA shower selection, shoppers will proceed to the secure checkout. The secure checkout has a distinct encrypted code that provides layers of security, so information supplied by the shopper remains completely private and is inaccessible to others on the worldwide net. Thus, even though customers are shopping on a public website, the extra layers of security ensure that their information remains confidential.
Walk in baths with showers, standard walk in showers, and other specialized bathtubs are available for delivery only on the secure shopping cart website. An elderly bathtub or shower usually arrives a week from the date of purchase. The site also features live representatives for additional assistance on these unique walk bathtubs.
Contact Information:
Tye Wennstedt
720-495-5497
info(at)walkbathtubs(dot)com